News & Updates
5 Ways to Reduce Costs and Optimize Spend on Aptible
5 Ways to Reduce Costs and Optimize Spend on Aptible
Cloud infrastructure costs can naturally grow over time as you scale to meet demands. Aptible helps organizations save on infrastructure costs by managing and maintaining secure, compliant infrastructure that would otherwise require hiring additional engineers.
I'm not sure what we would do without Aptible. We would have to hire 3 more people and we still would not have the high level of support and tooling that Aptible provides.
Mark Siemers, Software Engineering Manager @ Health Catalyst
Beyond helping our customers save on salary costs, we provide flexibility and support to effectively manage ongoing cloud infrastructure costs. That's why we've outlined our top tips for reducing costs on Aptible.
Before you start, we recommend reviewing your monthly invoices to determine what resources you are currently consuming; this will help you identify the biggest areas for savings.
1. Review Your Container Usage and Rightsize Where Possible
Right-sizing resources is typically the most impactful way to reduce costs. You can review your usage within your Metric Drains, or contact Aptibe support to request a cost-optimization recommendation report. This report will provide you with scaling recommendations based on your usage patterns of the past two weeks.
CPU & RAM scaling can be done for both Apps and Databases within the Aptible Dashboard or CLI. Database Disk scaling can only be scaled down by performing a dump and restore to a smaller database.
⚠️ Warning
To ensure there are no performance issues as a result of scaling downward, it's recommended to set up alerts and monitoring using data from your Metric Drains.
2. Review You Backup Retention and Reduce Where Possible
A quick way to reduce your backup costs is by customizing your backup retention policies. By default, all Aptible environments have the following backup retention policy:
90 daily backups

72 monthly backups

Cross-region copy: enabled

Keep final backup: enabled
Reducing the total number of retained daily backups will have the most significant impact to your costs (even more so than disabling cross-region copies). For staging/testing environments, you may want to consider generously reducing the backups retained (e.g. 7 dailies, 0 monthlies, disabling cross-region copying, and disabling final backup retention).
⚠️ Warning
Reducing the backup retention policy will purge all backups that fall outside of the set policy.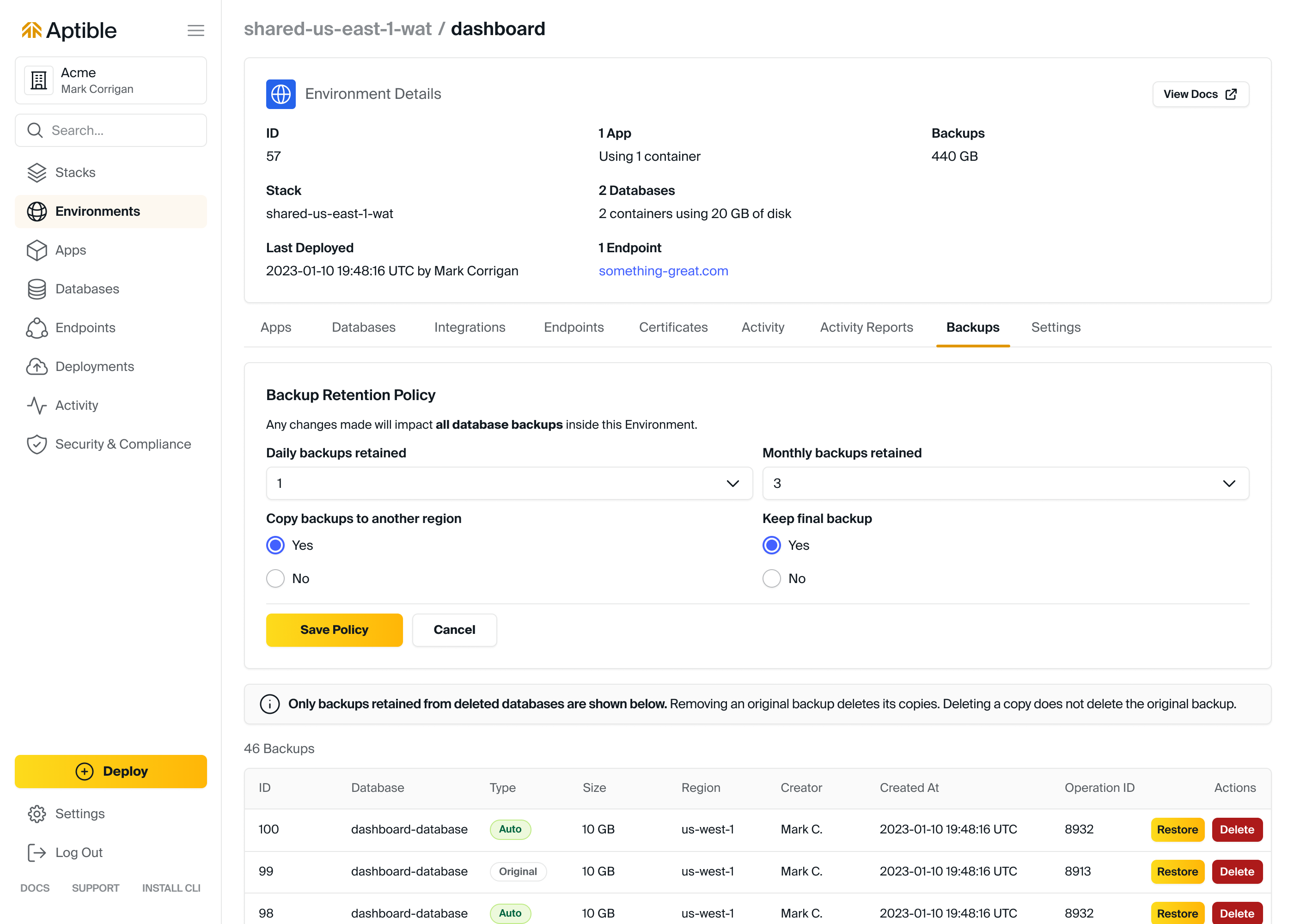 3. Use RAM- and CPU-Optimized Container Profiles for More Accurate Scaling
ℹ️ July 2022 Update
As of July 2022, Container Profiles are now generally available.
Aptible is offering a new limited-release feature called Enforced Resource Allocation, which is designed to enhance your ability to control your containers by offering:
Better enforcement of resource limits

Access to new Container Profiles

Access to more container sizes
⚠️ Warning
To ensure there are no performance issues as a result of scaling downward, it's recommended to set up alerts and monitoring using data from your Metric Drains.
To learn more about Enforced Resource Allocation and our new Container Profiles, have a look at our documentation.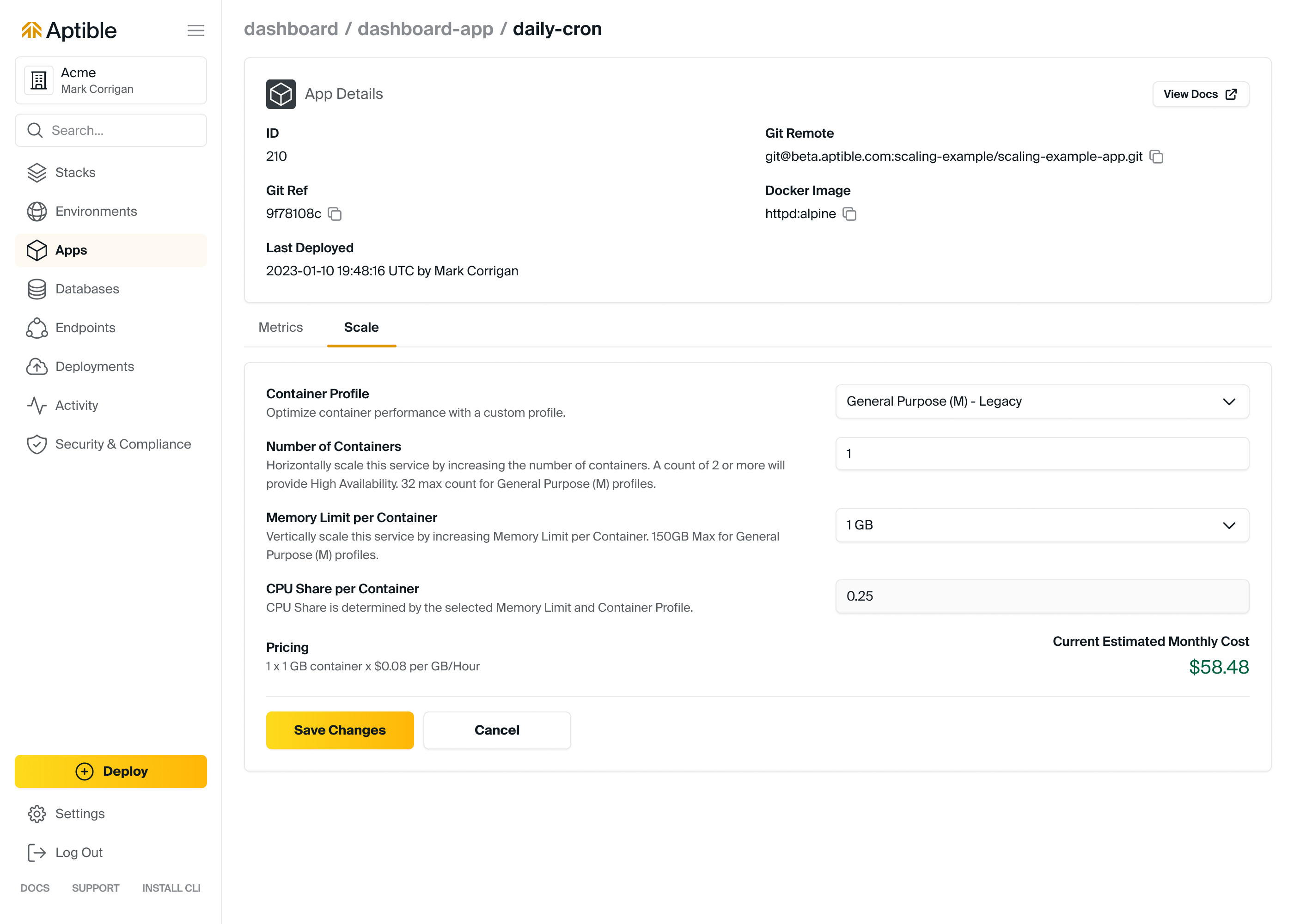 4. Consider a Volume Pricing Agreement for Discounted Pricing
Aptible provides discounted pricing by offering volume pricing agreements for all customers. Volume agreements require a commitment to a monthly spend level:
Annual Upfront Payment, Annual Term: No minimum monthly spend level.

Monthly Payment, Annual Term: Minimum monthly spend level of $8k/month.
Contact Aptible Support or your Aptible Account Manager for a volume pricing quote.
5. Add a Secured by Aptible Badge to Your Website for $100/month Discount
Build trust with customers (and grow your business!) by deploying your application on Aptible, then sharing your security and compliance posture with a Secured by Aptible Badge on your website. Contact Aptible Support to get started.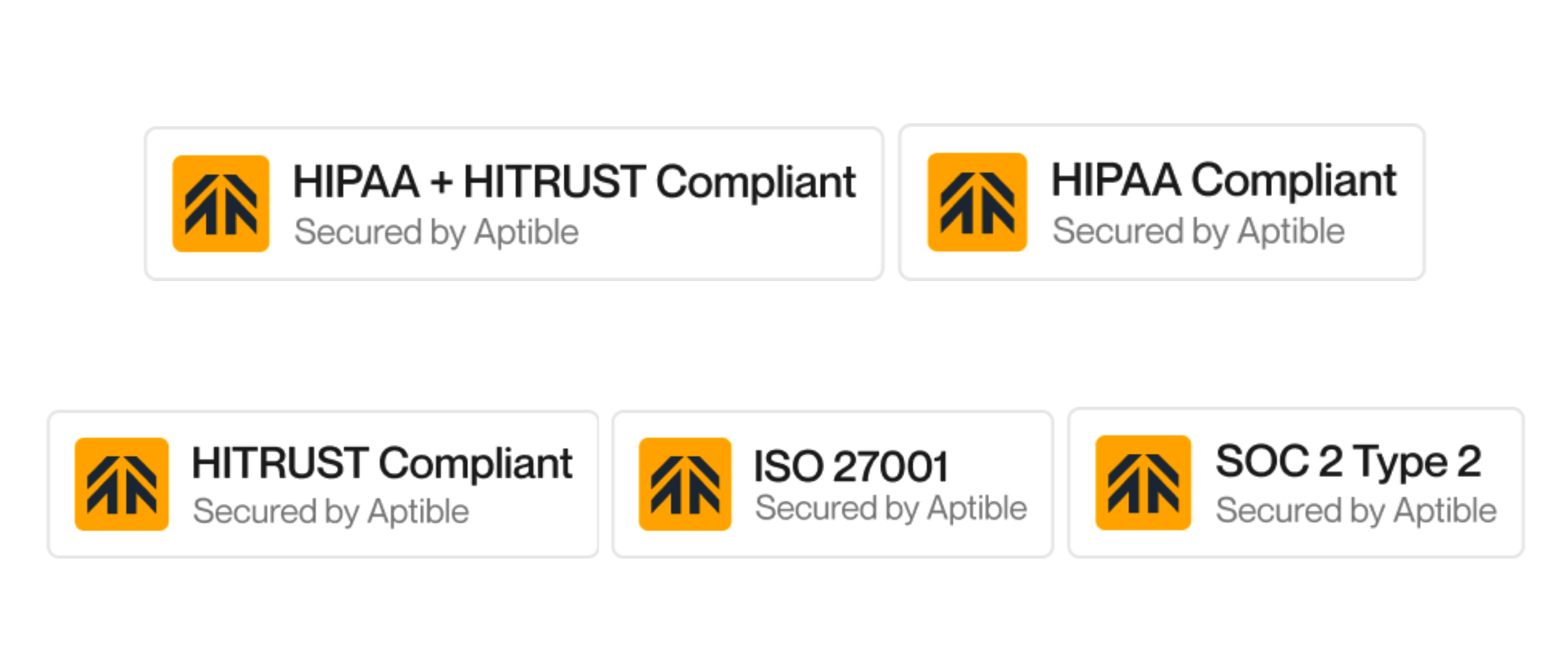 Want more help?
Whether you are an early-stage startup or a large enterprise company, Aptible can help you maintain the costs of cloud infrastructure. Connect with our Support Team to talk more about how Aptible can help you with cost optimization.