Case Study
How Greenspace Scaled Infrastructure: From Individual Patient Care to System-Wide Population Healthcare.
"With Aptible, we have enjoyed state-of-the-art infrastructure and extremely high uptime. This makes it possible to deliver a high-performing and highly-available platform to customers of all sizes."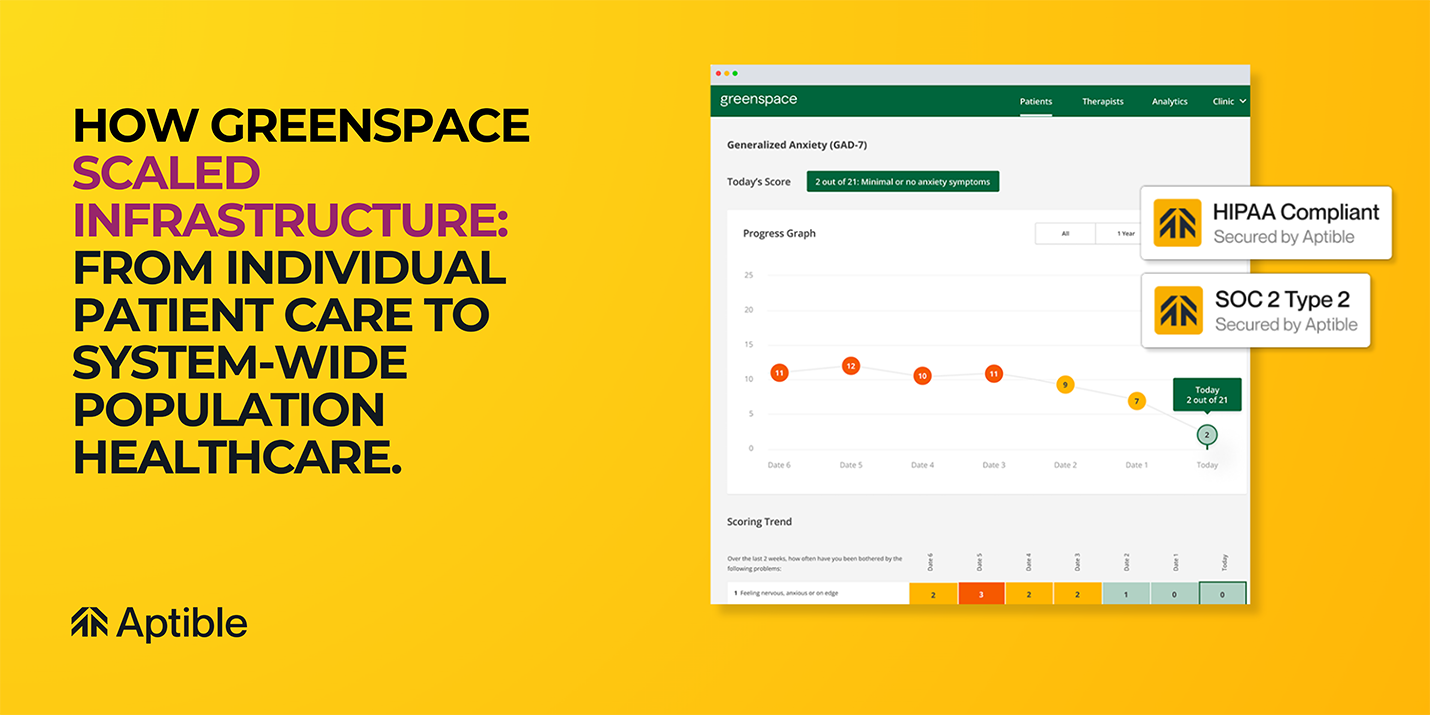 Delivered a scalable behavioral health solution to 11 million Canadians at the beginning of the pandemic Never lost an enterprise-level deal due to a failed security or privacy audit.
Improving Patient Care and Outcomes while Reducing Healthcare Costs 
"Aptible has enabled us to improve quality of services and patient outcomes, all while reducing per capita healthcare costs." 
Greenspace is a Canadian behavioral health solution that allows service providers and organizations to automatically monitor patient progress and outcomes using evidence-based mental health assessments. Their technology facilitates this process, known as Measurement-Based Care, and allows organizations to generate the data needed to improve patient-provider collaboration, clinical decision making, and overall outcomes.
When working with a counselor or therapist, decisions have traditionally been made based on patients' subjective description of their feelings and the clinician's judgment. Greenspace adds a layer of objectivity by leveraging data.  
With the data and technology offered by Greenspace, providers can gather insights, see results visualized, and ultimately better understand how patients are progressing in care. Greenspace shares actionable data and recommendations to inform decisions and interventions, while also empowering patients to better understand and discuss their own mental health. The same data is aggregated and used to inform decisions at the program, organization, and system level to improve quality of care on a broader scale.  
While the product was initially designed with a focus on small and medium service delivery organizations, Greenspace has grown to serve the needs of large enterprise organizations and health systems. They encourage providers and systems to operate in a data-driven way and ultimately drive better patient outcomes. From Greenspace's early days to their current growth stage, Aptible has been the backbone of the platform's infrastructure. 
Mike Lerner, Chief Technology Officer and one of the founders at Greenspace, is responsible for product development and leads a team of 35 engineers, product designers, and product managers. He is directly involved in the company's growth strategy and ensures the infrastructure is prepared to scale. Over the years, Lerner and his team have relied on Aptible to prepare their application infrastructure for new stages of growth, while guaranteeing compliance and system availability.   
"The best part about working with Aptible is that it enables our application to run seamlessly and I barely have to think about it." 
The Challenge
All technology companies aim to bring their products to market as quickly as possible. The faster you get an MVP out the door, the more time you have to build a user base, gather feedback and iterate on the solution accordingly. 
When Greenspace launched in 2016, they had the added challenge of healthcare compliance and regulation, in addition to the challenges faced by other new technology providers. Because they were managing sensitive patient information (PHI), Lerner and his team needed to ensure they were operating in compliance with a range of different regulations and standards.   
To do this, Greenspace knew it would have to make serious investments in its infrastructure. Wherever possible, Lerner looked for opportunities to leverage services or components that already existed in the market, rather than devoting precious time and resources to starting from scratch and reinventing the wheel. Aptible stood out as a solution that would allow Greenspace to tackle hurdles that often cripple new technology companies, while helping them navigate a complicated regulatory environment.
"Initially, adopting Aptible allowed us to bring an MVP to market quicker. And it continues to pay off to this day."
The Solution 
"Essentially all of our engineering resources were invested into efforts that differentiated our product in the marketplace."  
When evaluating options for infrastructure management, Aptible stood out for having robust support for healthcare. "It was a pretty easy decision that we made quickly," Lerner says. Aptible gave them peace-of-mind that they were following security and compliance best practices and would not be making mistakes along the way. 
"Aptible gave us just the right amount of control to minimize room for error," Lerner explains. The helpful constraints imposed by Aptible's PaaS ensure developers stay within required regulations, so teams don't have to think about it.
Another benefit of Aptible was being able to guarantee compliance to customers in the early stages of adoption. This empowered Greenspace to gain the trust of providers and patients alike, which was critically important considering the sensitive data at play. 
Outside of compliance benefits, Aptible enabled Lerner and his team to focus on product enhancements, rapid feature development and implementation. Because they weren't getting bogged down by infrastructure concerns, Lerner could direct all engineering investment to application development to help differentiate the solution in the marketplace. This was critical in the early stages of the company and when working with limited resources.
At the height of the COVID-19 pandemic in 2020, Greenspace worked hand-in-hand with Aptible to launch a national population-facing solution across Canada. The solution was made available to all Canadians and Aptible worked directly with their team to prepare the application's infrastructure to accommodate such a scale. 
"We really considered Aptible a partner in the process," says Lerner. "They helped us have confidence we were ready for the campaign's launch and could address any issues that came up quickly." 
Greenspace's ability to win such a large project and gain the trust of national stakeholders was impressive. Aptible provided the platform and scalability necessary for them to be successful. 
"Since the early days of development, we have been able to convey robust security standards to build customer trust and increase adoption– right when it mattered the most. Thanks to Aptible we were able to keep the team incredibly lean and focused."  
The Results 
"In healthcare, strong security and privacy are table stakes. To date, we have passed every security or privacy audit that we have been subject to. With Aptible's help, we continue to maintain a strong security posture."   
By prioritizing investment on product development, Greenspace was already offering an extremely high quality solution for behavioral health providers. Lerner and his team, however, were aimed at entering the population health market, where the anticipated scale was even bigger. Their first Population Health implementation was a good test, and as they proved the infrastructure's scalability and reliability, more enterprise opportunities began to present themselves.   
Greenspace is currently operating pilots with seven major educational institutions to deliver care to populations of students. While Aptible handles the infrastructure needs, Lerner and his team can focus on rapid product iteration to deliver an impactful experience to its users. 
"Aptible has allowed us to be proactive rather than reactive when it comes to security, compliance, and reliability," says Lerner. "This helps us build trust in the market and close more enterprise deals." 
As they continue to grow, Lerner will continue to enjoy the security protections that come with being under the Aptible umbrella. Any new component they spin up is by default deployed in the Aptible ecosystem, where they have confidence in the visibility and controls available to them. With growth, their infrastructure needs will continue to evolve, but Lerner sees Aptible remaining a crucial piece of the puzzle as they continue to scale the business and mature their security posture. 
"Aptible has been, and continues to be, our partner in ensuring our system is more resilient as we grow," says Lerner.  
"With Aptible, we have enjoyed state-of-the-art infrastructure and extremely high uptime. This makes it possible to deliver a high-performing and highly-available platform to customers of all sizes."