News & Updates
Remote Work: Advice from Our Fully Distributed Team at Aptible
Here at Aptible, we've been fully distributed since Employee #1. We have colleagues everywhere — from Vancouver to New York — who've enjoyed the flexibility to work from home or a local co-working space of their choice. We invited Aptilians to share their workspaces and advice for making remote work really work for them.
We asked:
Where do you work? (e.g. Which part of your home? City/State?)

What's your most treasured object in your workspace?

What are your top 1-3 tips for someone working from home for the first time?
And here's what they had to say.
Alex Kubacki, Customer Reliability Engineering Manager
Indianapolis, IN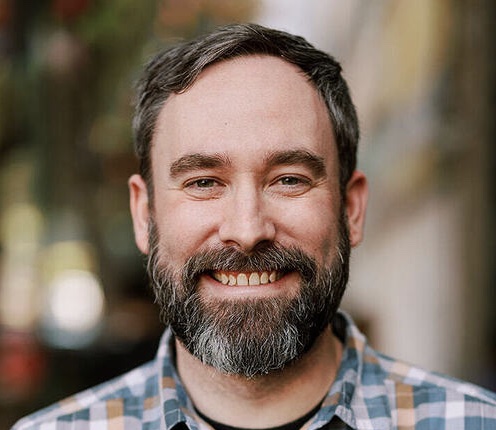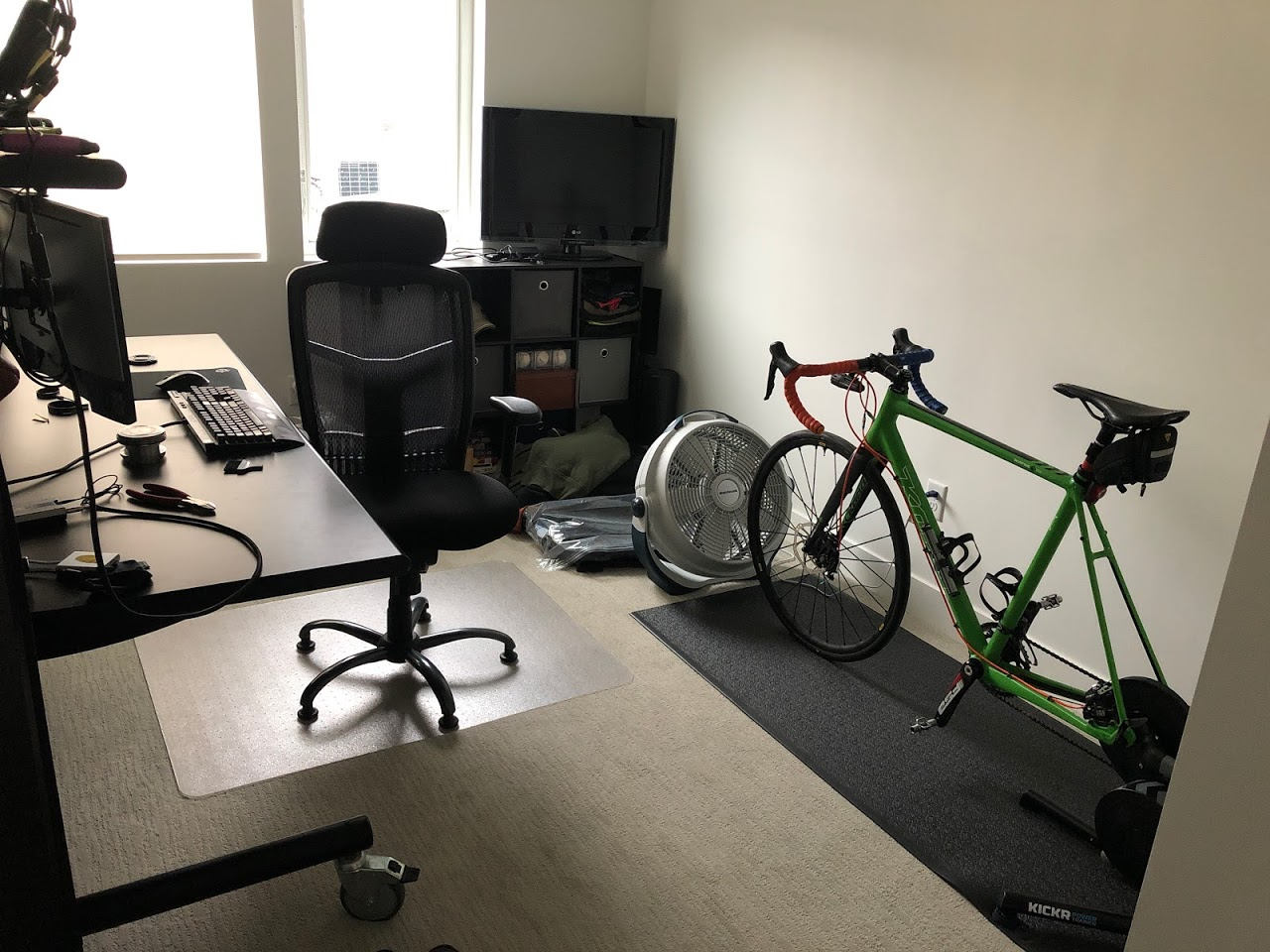 1. I have set up one of the non-master bedrooms in our condo as my office and recreation room.
2. IN my workspace I most treasure my desk itself. The most treasured thing ABOUT my workspace is the large window for plenty of natural light, and view of a very quiet courtyard (I can see other people WFH this week!)
3. Get comfortable. Get a real desk chair. Like what you'd find in an office building, not Target or Office Depot.  Don't neglect other details - your mouse, ambient light, or even your footwear can all be distracting in their own way.
Amit Likhyani, Account Executive
Las Vegas, NV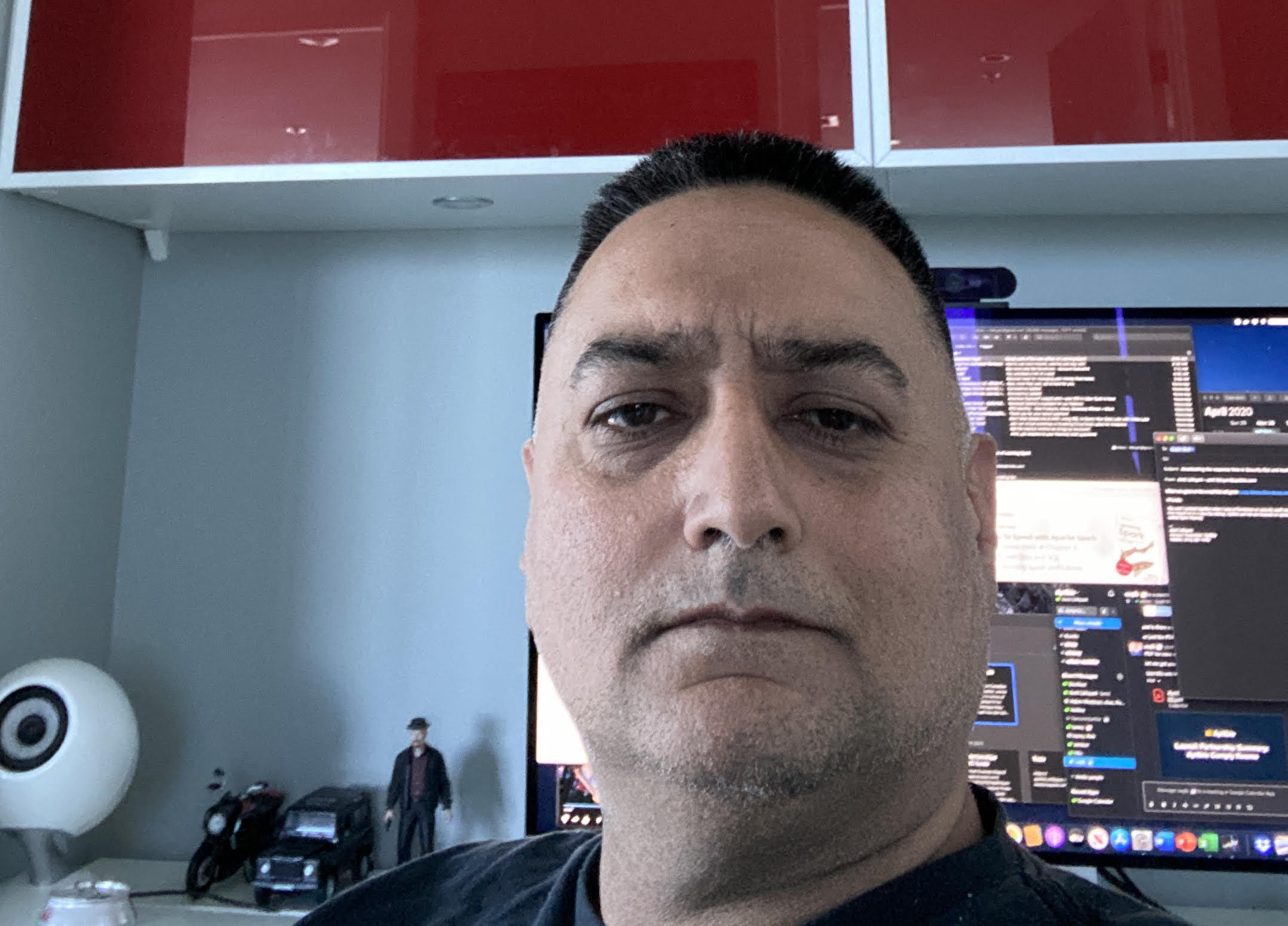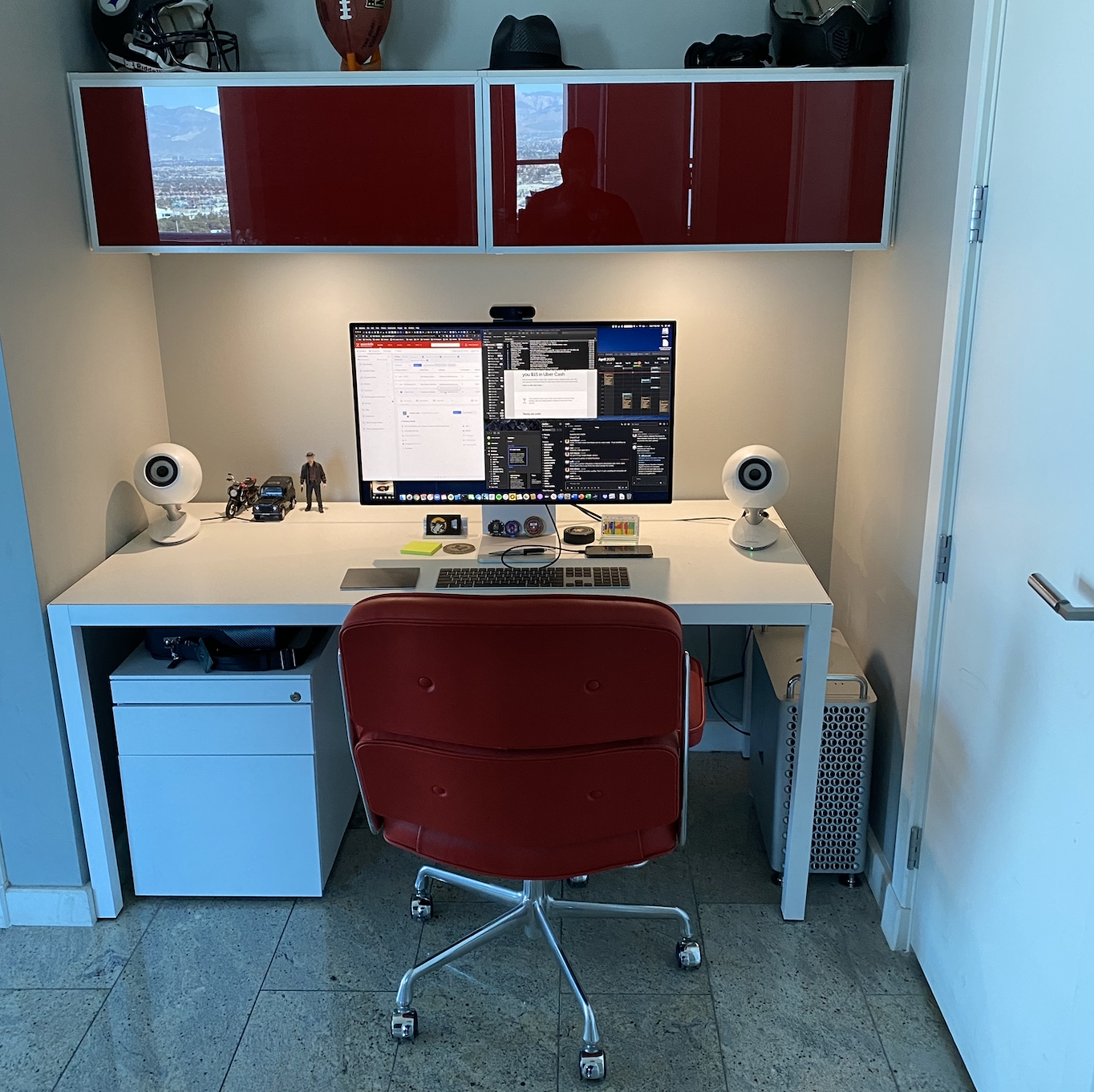 1.  I work in a condo in Las Vegas, NV.  There is an alcove near the kitchen designed for a desk and shelves.
2. The most treasured object is a coin I received from the University of Texas at Austin upon obtaining my MBA.
3.  A) Have a context swap where you leave the house and come back.  I grab a coffee at Starbucks.  When I come home I'm not coming home but going to the office.  Similarly at the end of the day leave the house so you signal to yourself that you've left work. B) Make your bed, shave, take a shower and wear pants first thing. C) During working hours, resist the urge to shoot a quick game of pool, take a nap, hang out on the balcony.  Mentally commit to working during work time but make sure you have boundaries.
Bayley Adams, Customer Reliability Engineer
Berkeley, CA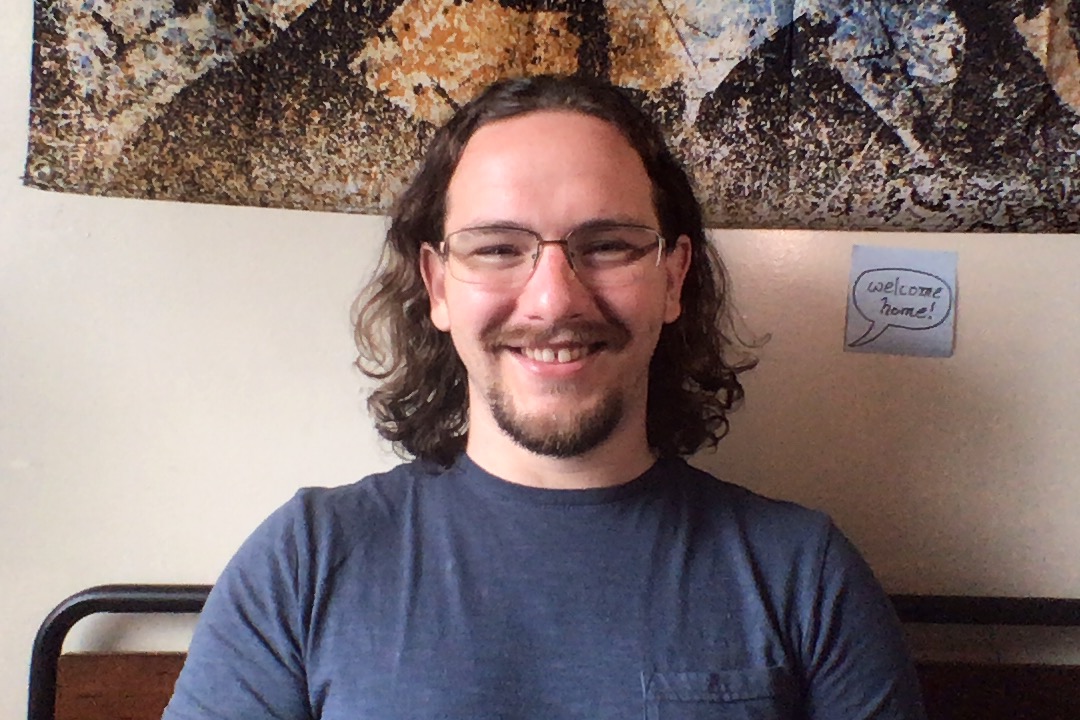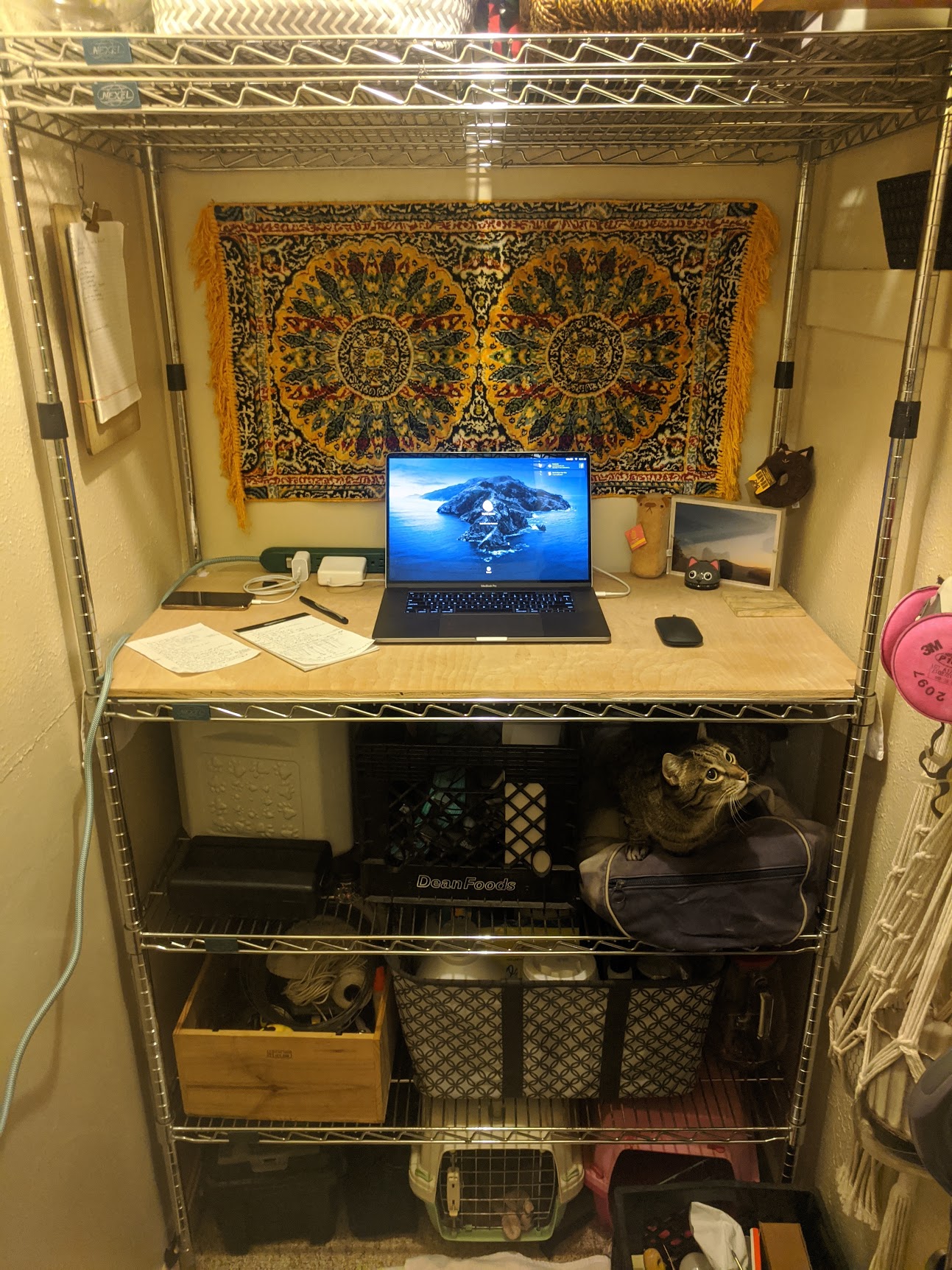 1. California->Berkeley->Studio Apartment->Closet, in said apartment. The only space available for a standing desk.
2. A photo my brother took of me hang gliding above him at sunset.
3. I've been WFH for all of 4 days, but here goes: Make up a routine, e.g. working from bed in the mornings, then getting up and fed and set up at your desk for the afternoon. The regularity of it helps.
Caroline Lau, VP of People Operations
New York, NY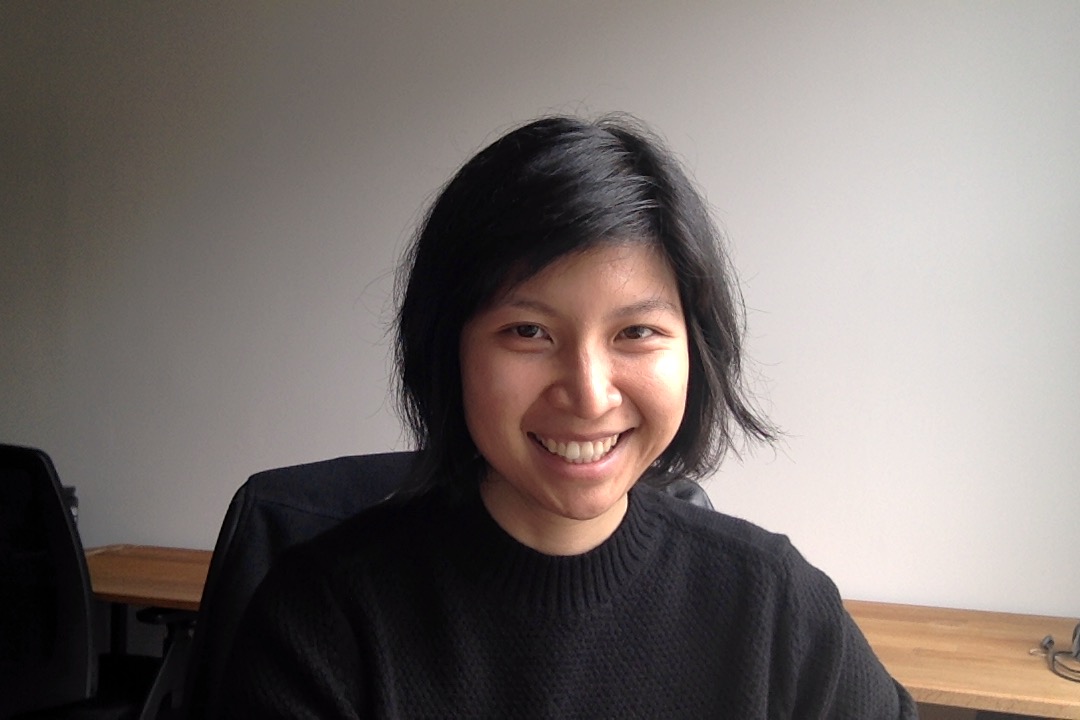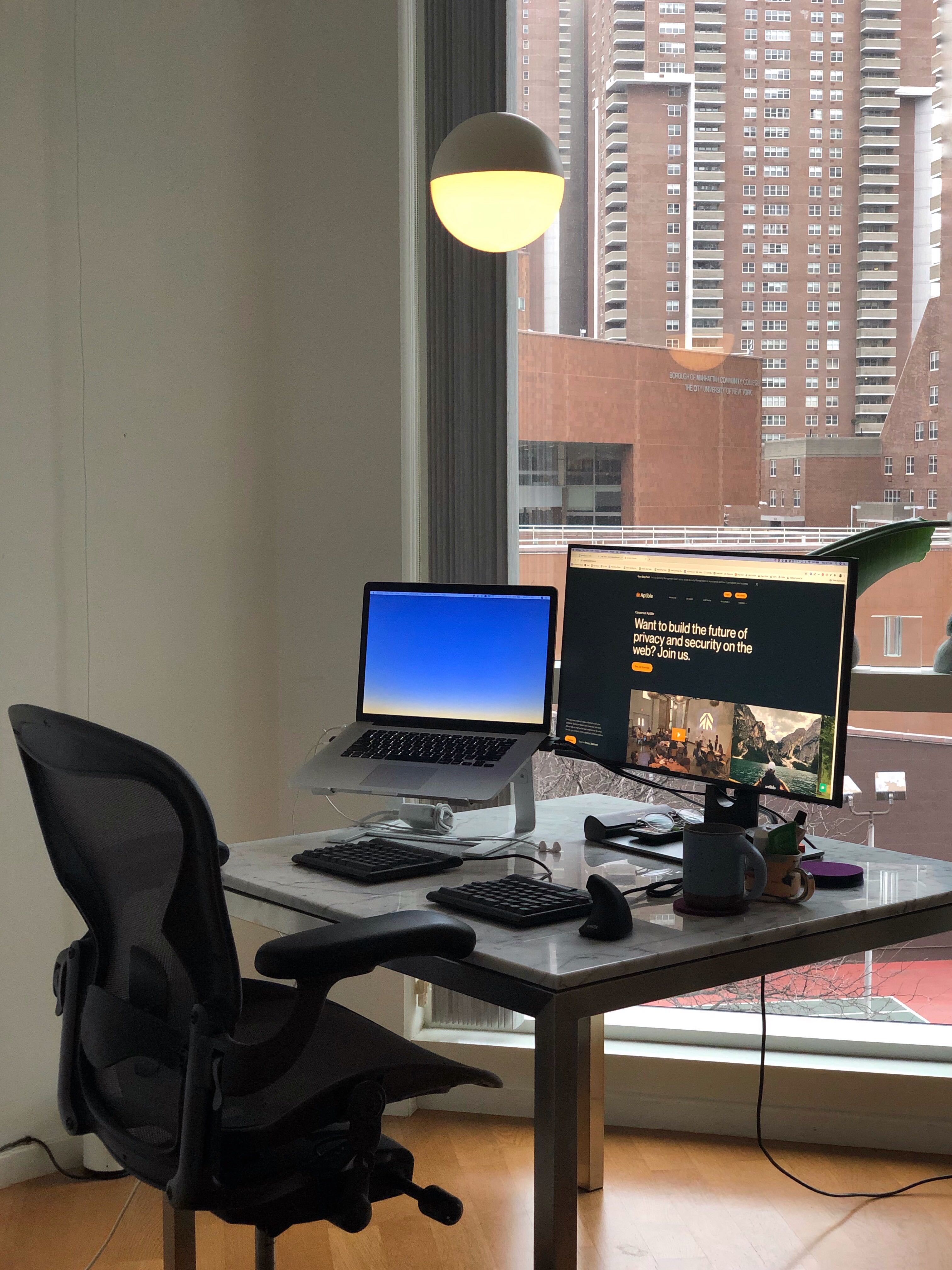 1. I normally work from a nearby WeWork, but these are not normal times. I'm currently set up at my dining table, in my apartment in NYC.
2. 1). My Aeron Chair, which I recently purchased after a bout of bad back pain. It's made all the difference. 2) My coffee/tea mug from East Fork Pottery. Because I love ceramics! And because I think it's important to stay caffeinated and hydrated throughout the day.
3. When I first started WFH, I'd go the entire day without taking a single break — I was a sad mess. Structuring my day really helps: I create "Break," "Focus," and "Workout" blocks in my calendar and take them as seriously as I would any other meeting.
Catherine Zarra, Senior Software Engineer
North Kingstown, RI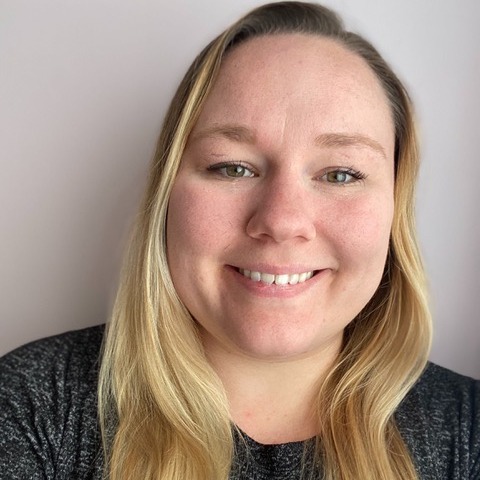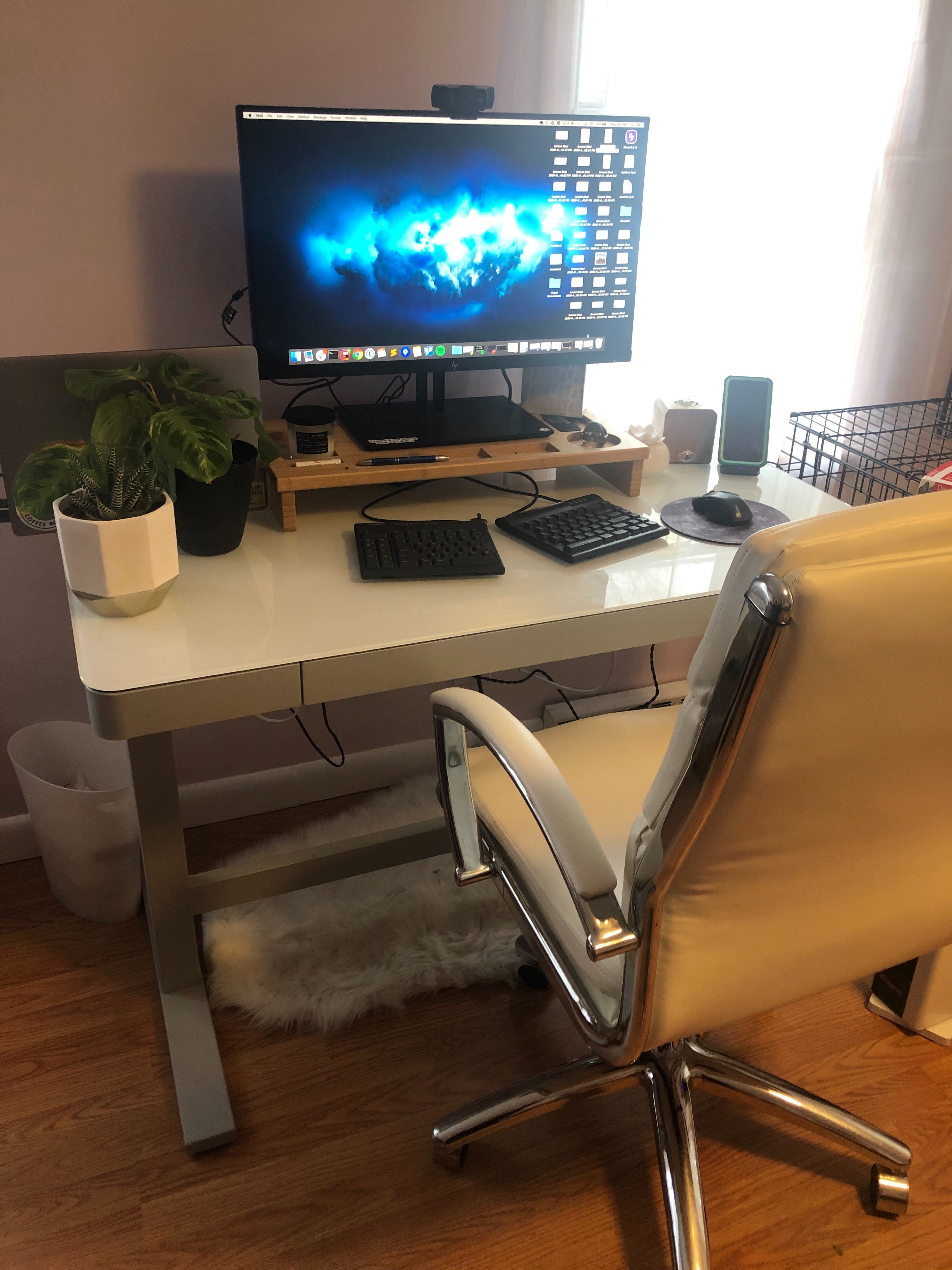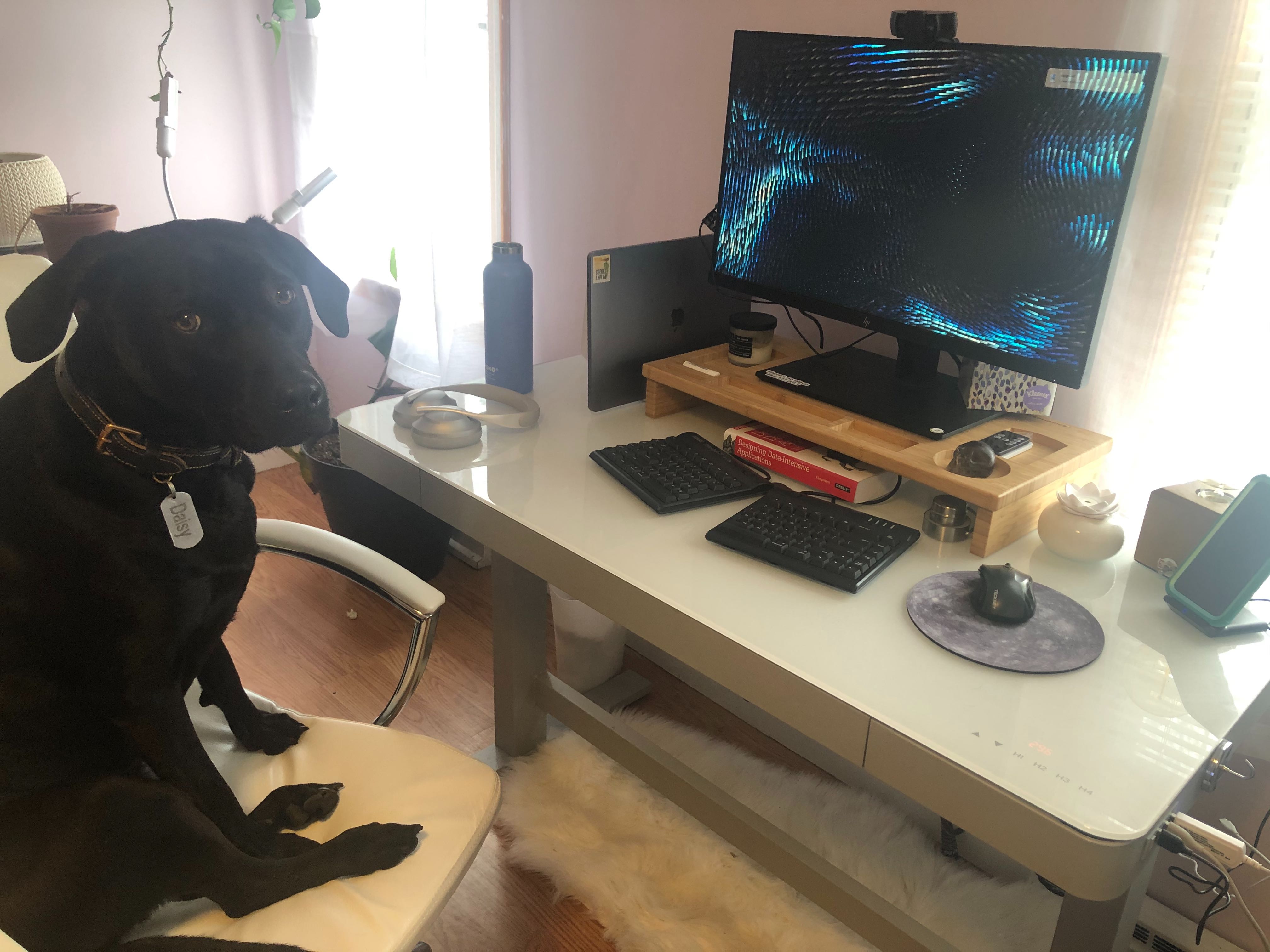 1. I work out of my home office in North Kingstown, RI. 
2. I recently bought an essential oil diffuser shaped like a flower. I like that it's pretty and functional. My dogs hang out while I work but it keeps my space smelling fresh. I also love the soft, fluffy rug under my desk because I never wear shoes when I work from home. 
3. Be flexible. There's a lot of tips out there for working from home but it's important to find what works for you. Experiment to find your best work from home conditions and be kind to yourself while you figure it out.
Chas Ballew, Co-Founder and CEO
San Francisco, CA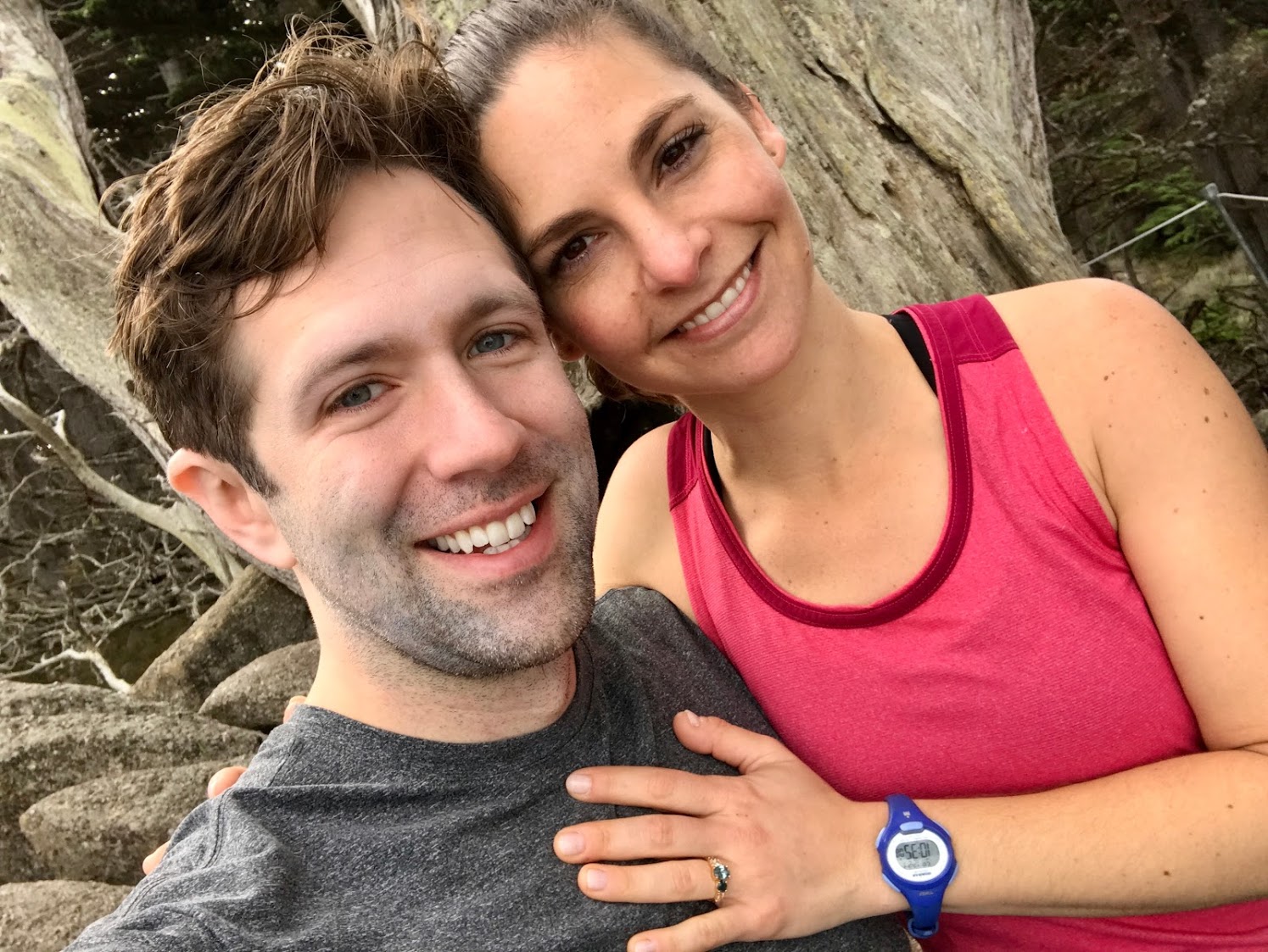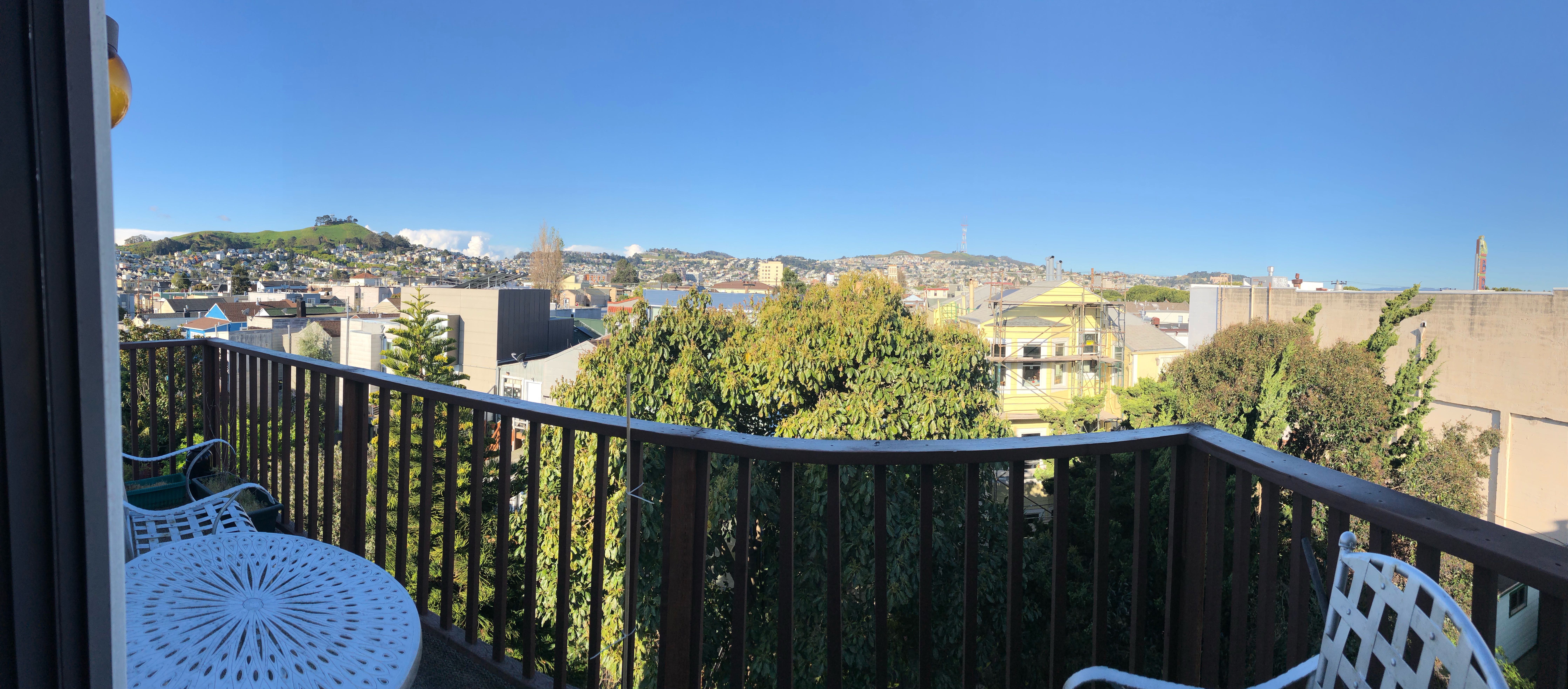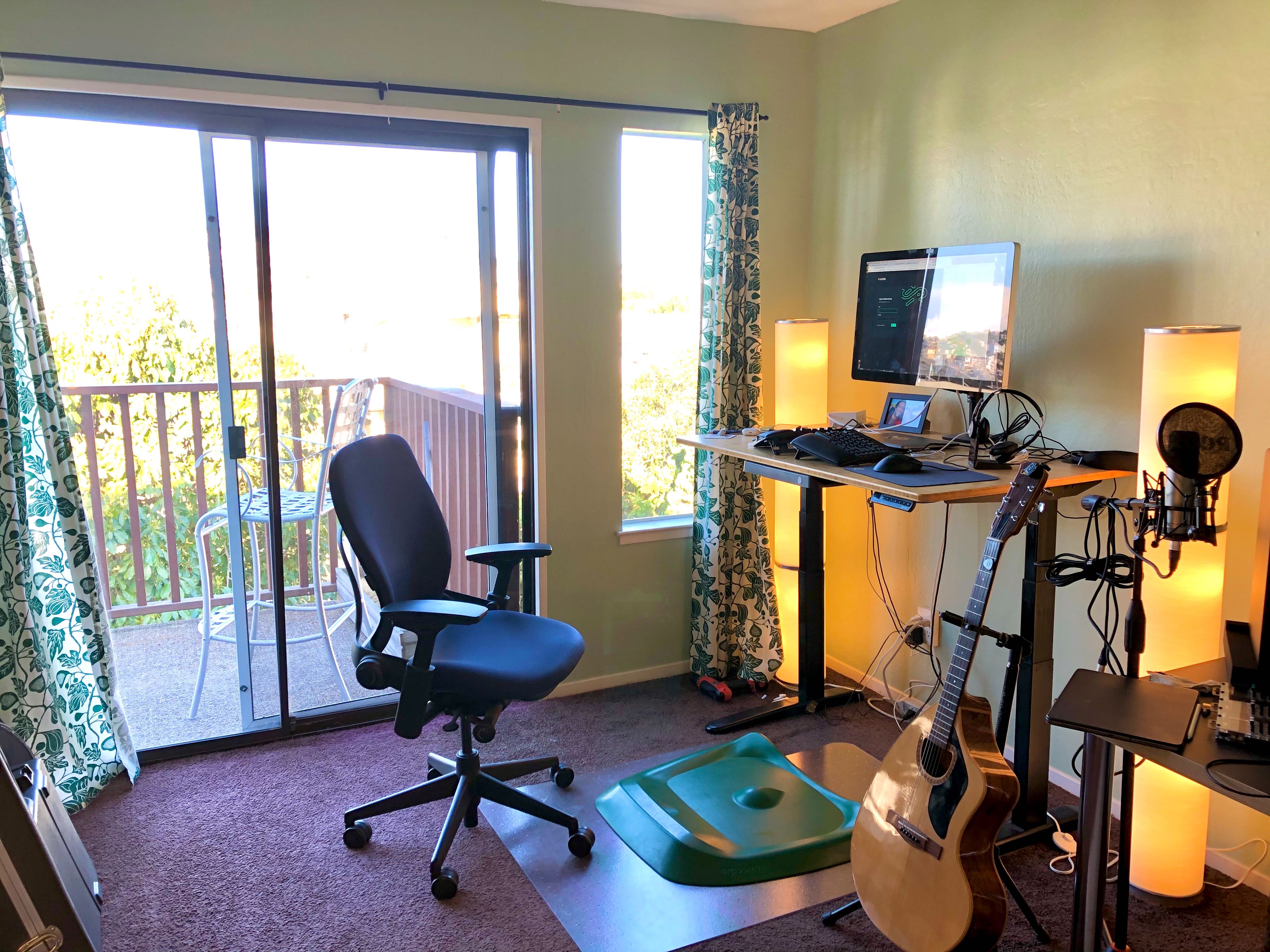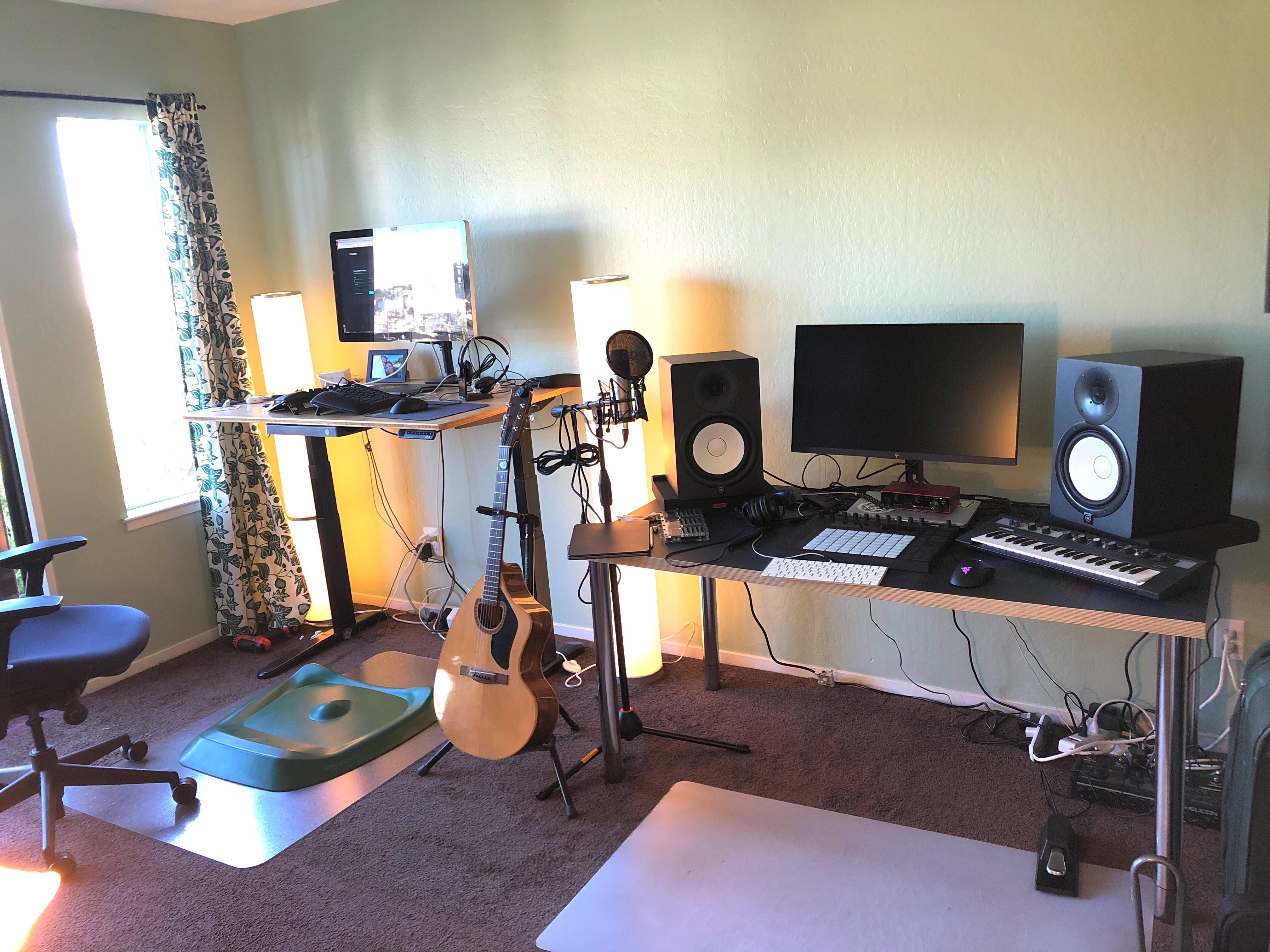 1. I work out of the apartment my fiancee and I share in the Mission, near SF General. I sit near a big sliding door with panoramic views of Bernal Heights, Sutro Tower, and Twin Peaks.
2. I love music and have a little music production studio next to my work desk. Making music lets me use totally different parts of my brain and skills, so it's nice to be able to walk up to my other desk and start creating something without overhead or setup time.
3. Top tip for WFH: make time for fresh air and light!
David Wen, Software Engineering Lead
Surrey, BC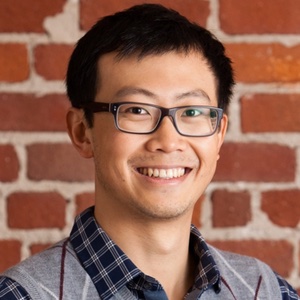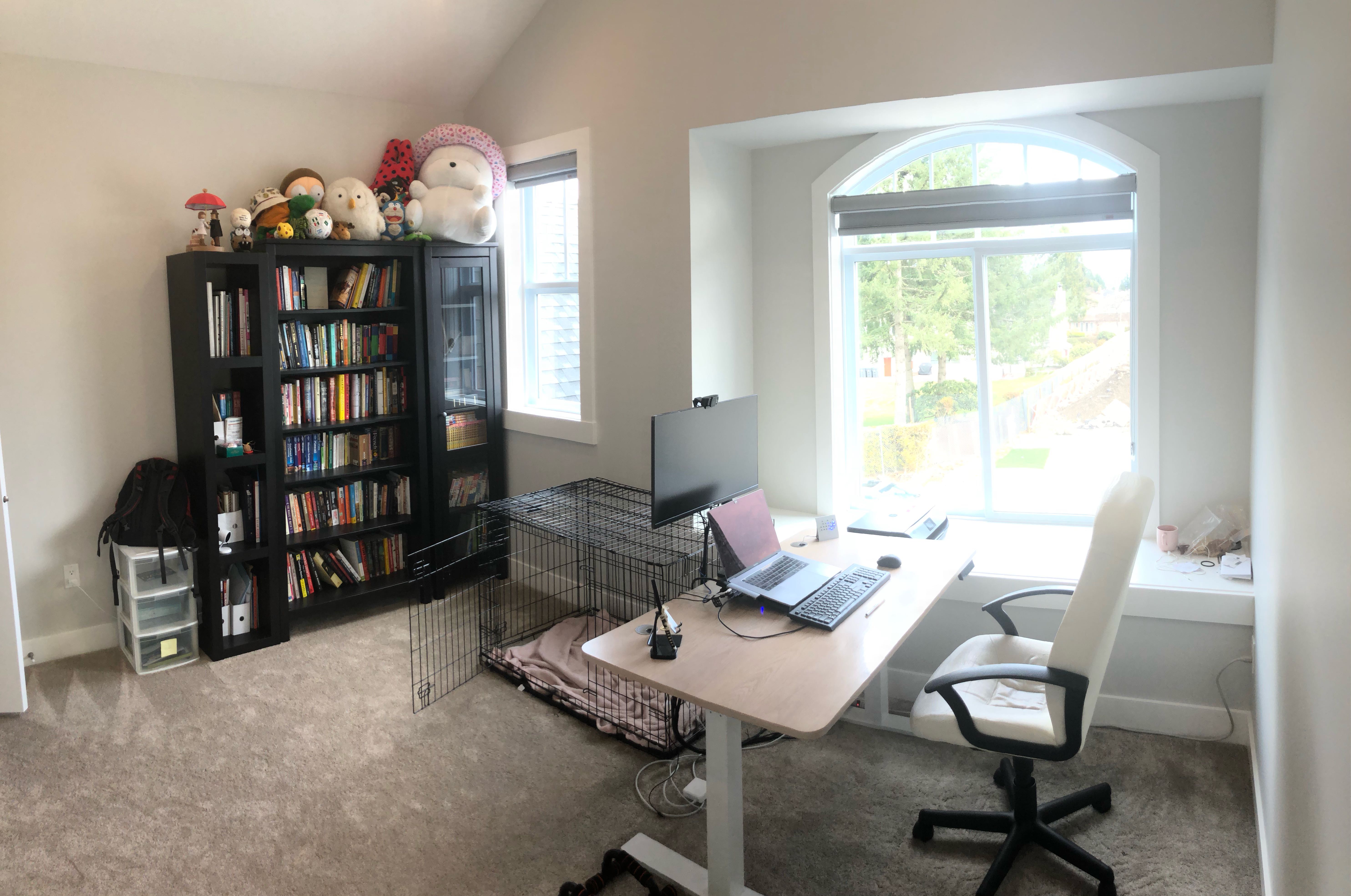 1. Surrey (near Vancouver), BC, Canada.
2. I can't pick! Letter-opener samurai sword from my backpacking trip to Japan (my two best friends each have one too), binary clock from my sister, mangas from my aunt since I was a kid, every Lonely Planet I've ever owned, stuffed animals from all over… actually this sounds more like a kids room than an office…
3. Minimize distractions - even that pen on my desk gets twirled way too much…
Frank Macreery, Co-Founder and CTO
Detroit, MI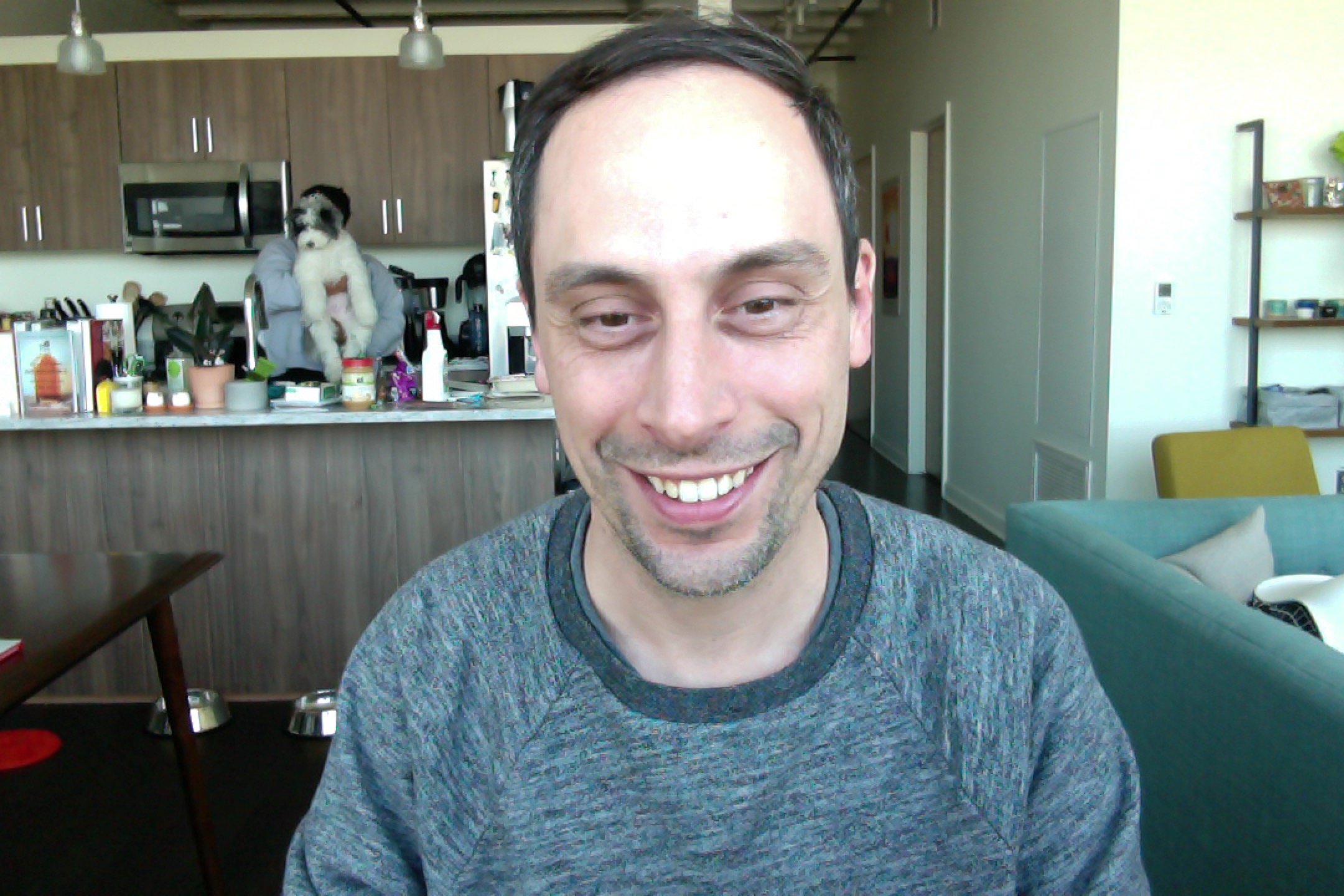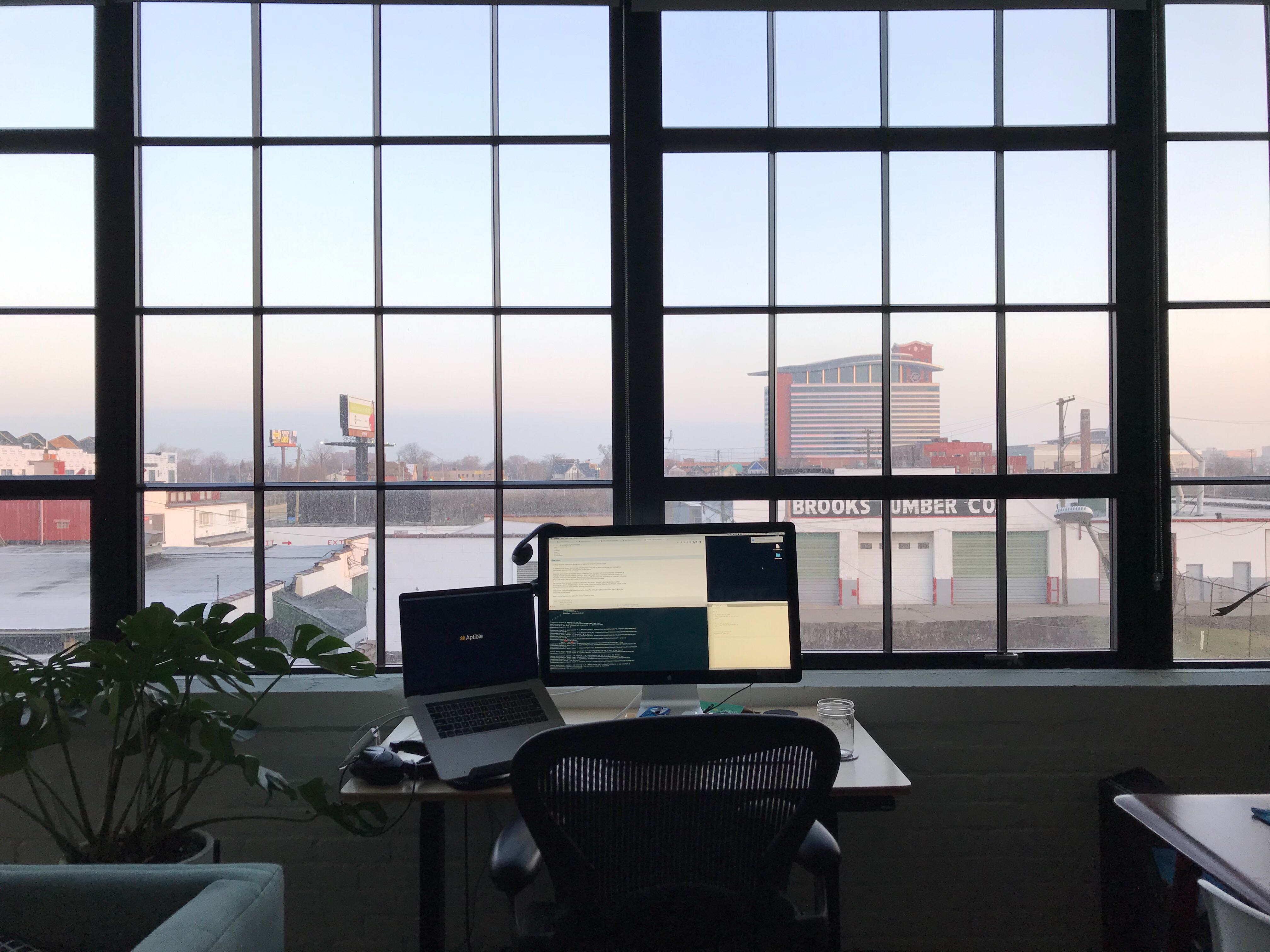 1. I live in an open layout, 1 BR apartment in Detroit, and work in that main living/dining room area (living room is the green couch on the left, dining room table is on the right)
2. I love the giant window that runs the full width of the apartment. It's a northern exposure so always well-lit without ever having direct sunlight. That's not really a "thing" though, so: my second favorite is my OXO On 9 coffee maker + Zojirushi thermos. I used to be artisanal about coffee (V60, Chemex) but as I get older I just want good coffee with minimal effort. So, I brew a batch when I wake up, fill up 2 thermoses, and it's great quality coffee all day with a couple minutes of effort.
3. (a) Buy a standing desk AND a standing mat, and try to stand for at least 1 hour each day. (b) Get a solid coffee/tea setup. If you don't rely on caffeine, I don't know what to tell you. (c) Don't use your laptop keyboard. Try several keyboard/mouse/trackpad combinations to find out what's best for you. (d) (Bonus!) Make sure to tune your desk and chair height for ergonomics and to prevent carpal tunnel syndrome. In particular, make sure your wrists are never angled down toward your desk (i.e., never an acute angle between the backs of your hands and your wrist).
Jenieze Herman, Recruiting Associate
Brooklyn, NY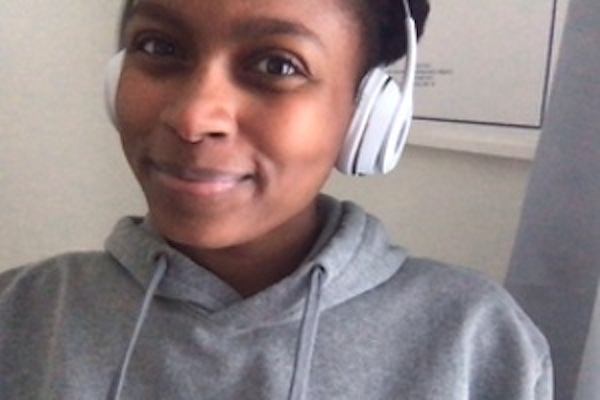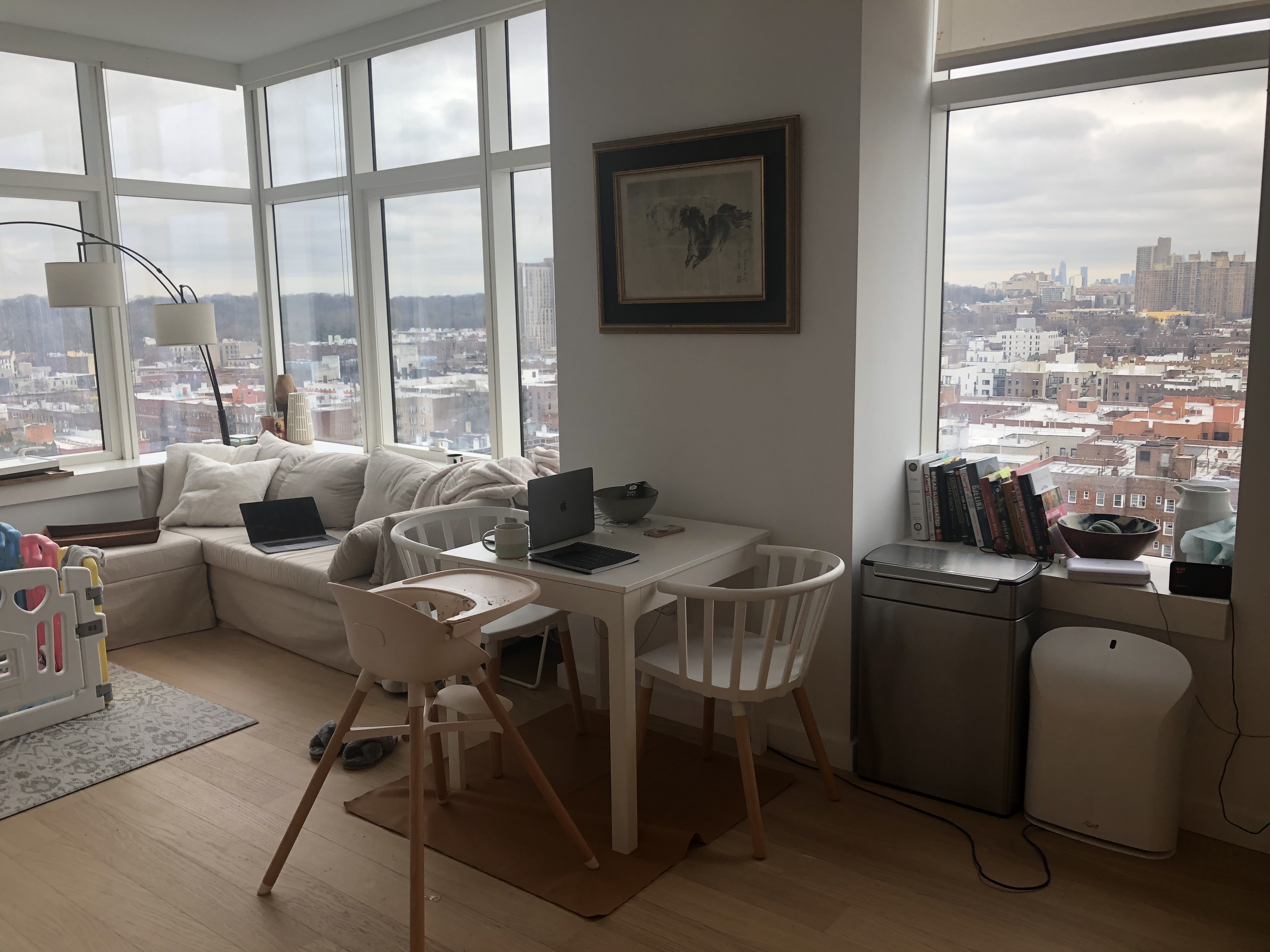 1. Working out of my living room, in Brooklyn, NY!
2. Most treasured object is my coffee cup. I've had it since college and it has caffeinated me through many late nights and early mornings, beginning with my thesis!
3. One tip would be to make a schedule for yourself and stick to it as best you can! It prevents your free time from bleeding into your work time and vice/versa. Also, take advantage of not being in an office. Listen to music/podcasts out loud, have dance breaks, prioritize your physical comfort. My last tip is that if you share your space with a partner and/or baby, definitely make sure you have space to focus when you need to really get things done/take meetings.
Jesslyn Landgren, UX Software Engineer
Cumming, GA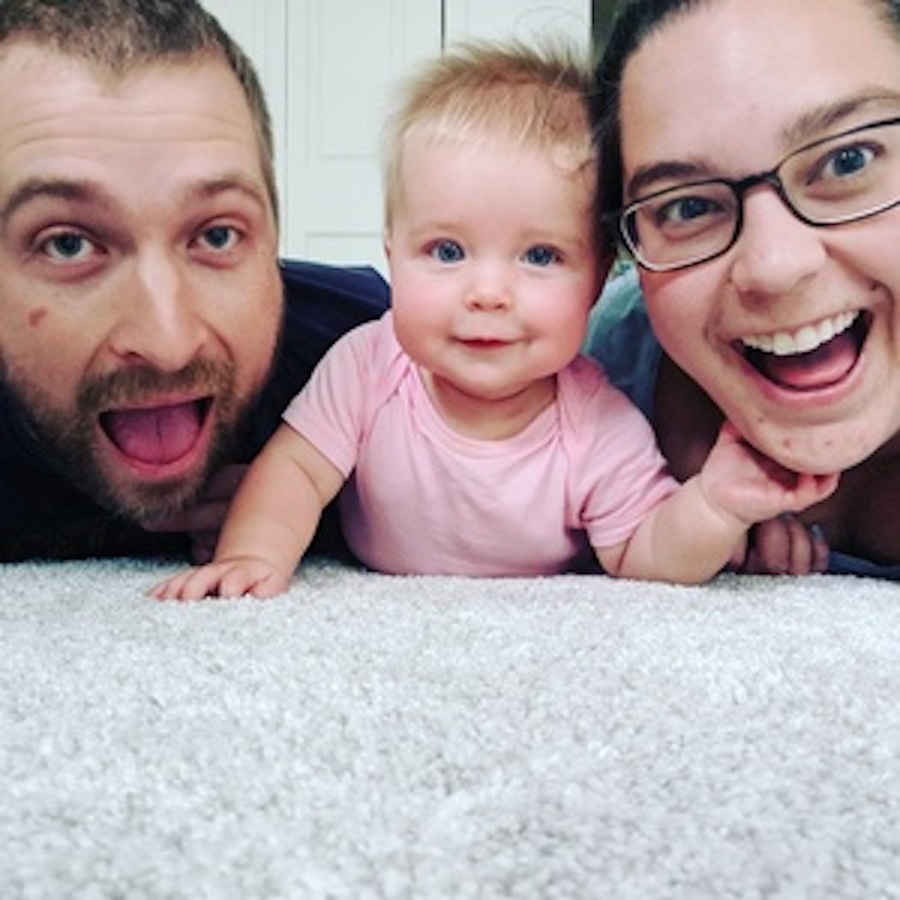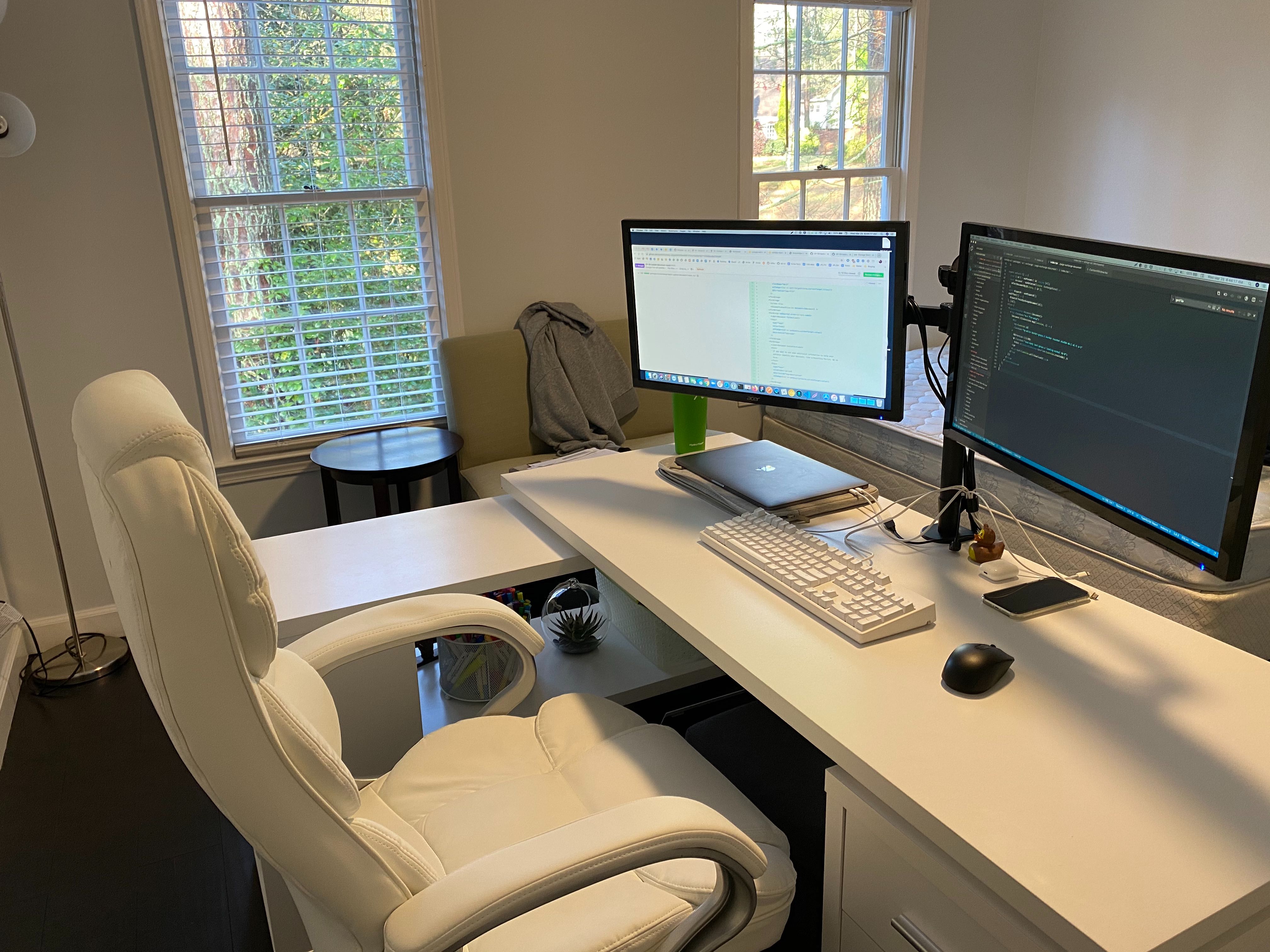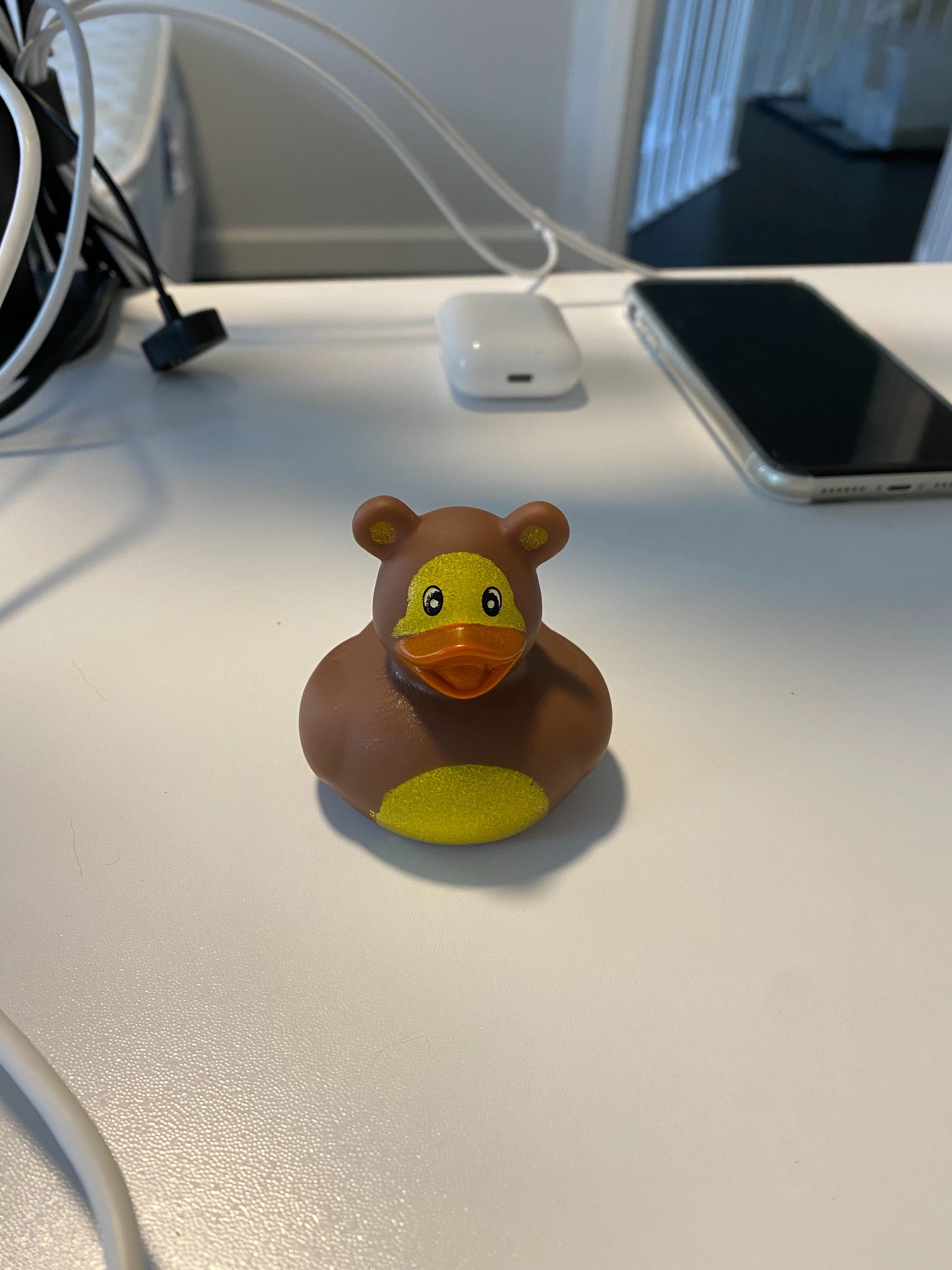 1. I set up my desk in a spare/storage room in my house in Cumming, GA.  Still working on making it into an official "office".
2. My most treasured object is my "bear" rubber duck (pictured above).  Every programmer needs a rubber duck to keep them company and mine makes me laugh when I see it.
3. Recommendations:
Routinely clean your space

Have an extra set of cords/chargers for phones and accessories so you don't have to move them from room to room at the end of the day
Joe Nazzal, Sales Development Representative
San Bruno, CA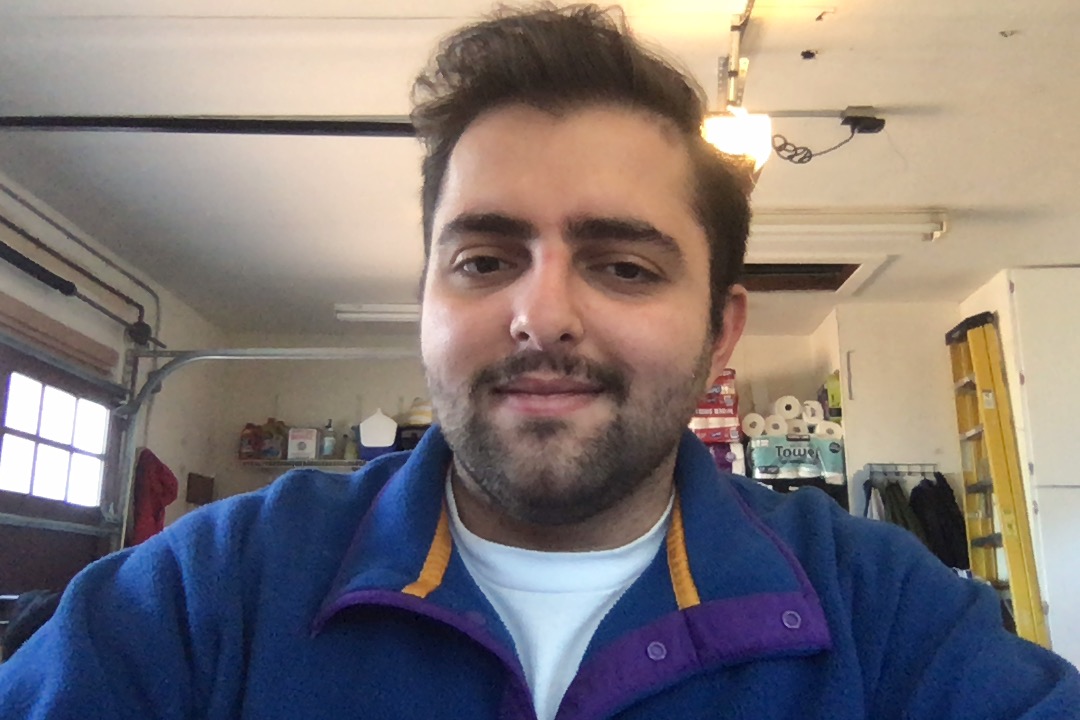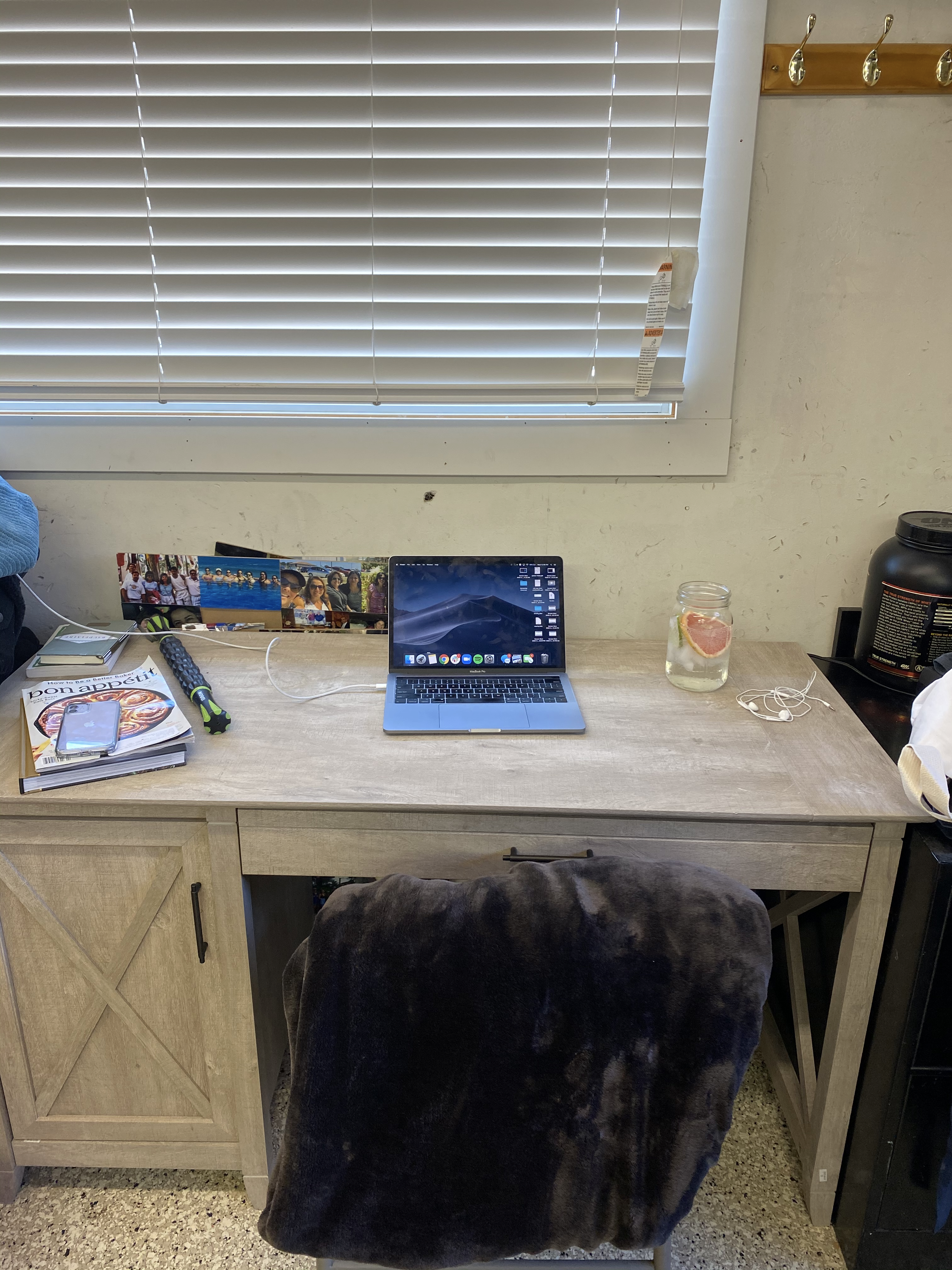 1. Working from my dad's garage in San Bruno, CA.
2. My back roller is definitely pretty treasured right now. I'm not used to sitting down for so long all day and these folding chairs don't help.
3. I usually go into the office every day, so WFH full time has been a bit of a transition for me. I'd say having a routine is huge. Exercise, showering/getting dressed in the morning, breakfast. Scheduling breaks. And going for lots of walks. 
Nadim Islam, Senior Software Engineer
Montreal, QC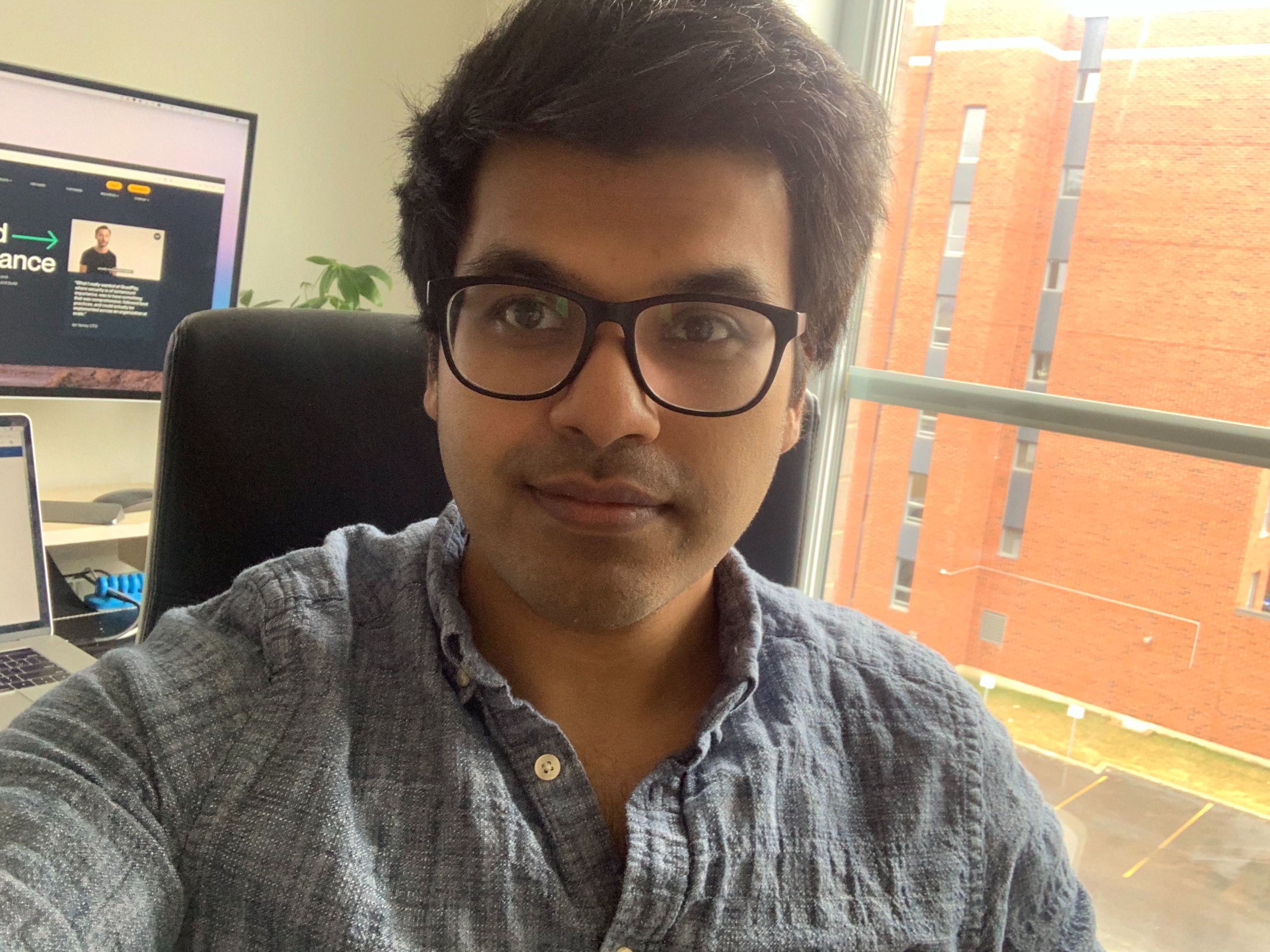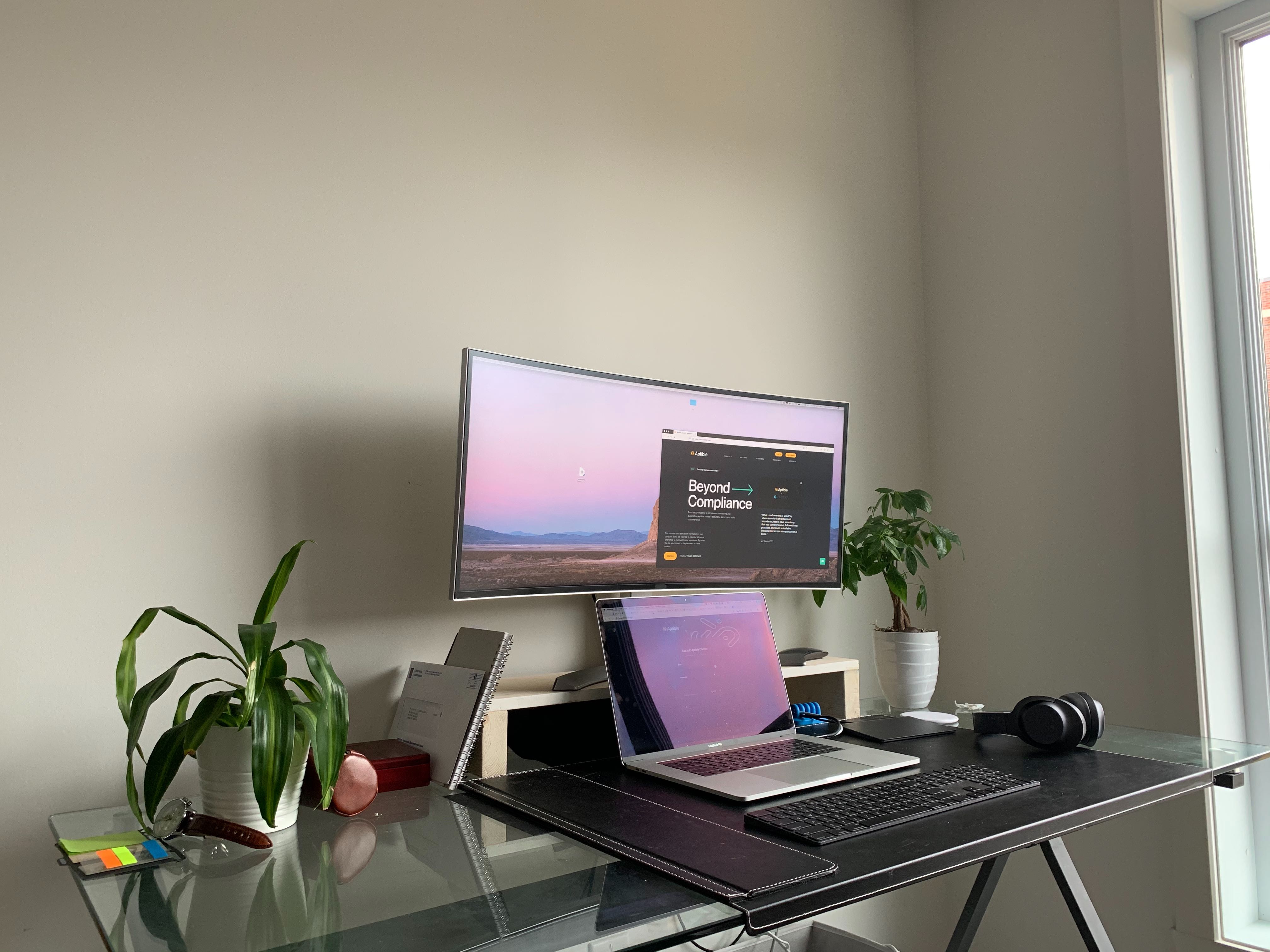 1. I have a dedicated room in my apartment/condo for my office. This is in Montreal, Quebec.
2. Honestly I have a lot of treasured things in my office hard to list them all. But my tops:
I really love my "money tree".

My Chemex is a real joy to look at.

I really like to sketch and do pen art during my free time, my pen collection is a little overboard.
3. Have a morning ritual, make some tea/coffee, change into outdoorsy clothes! Lo-fi hip hop.
Sarah Veirs, Customer Success Manager
Dallas, TX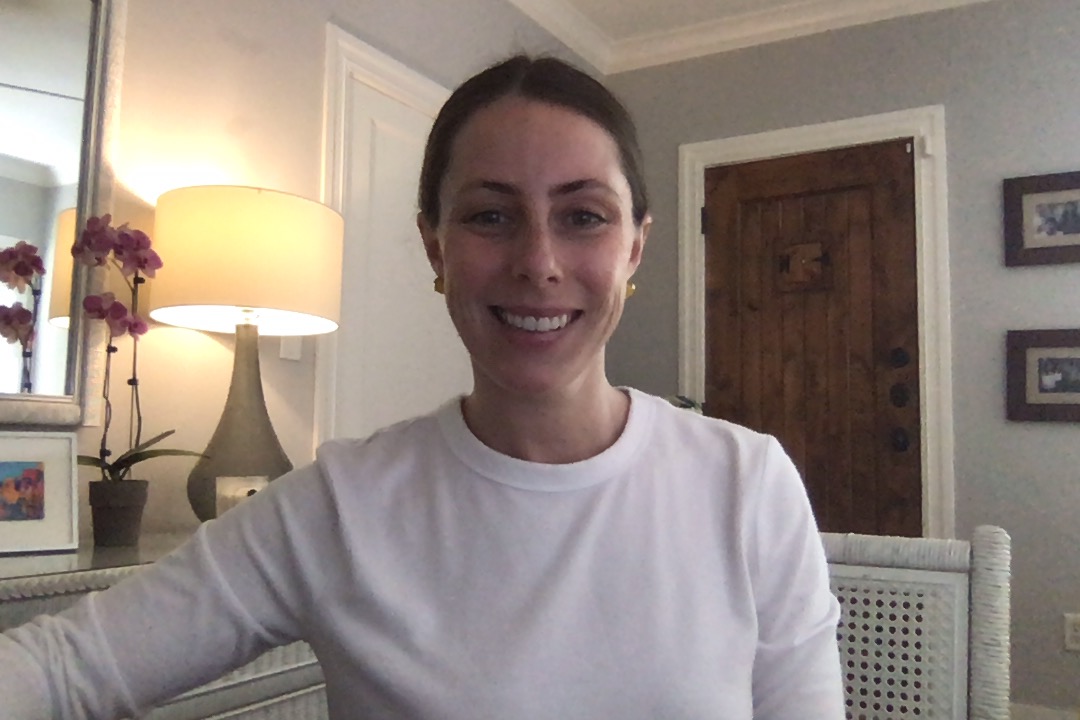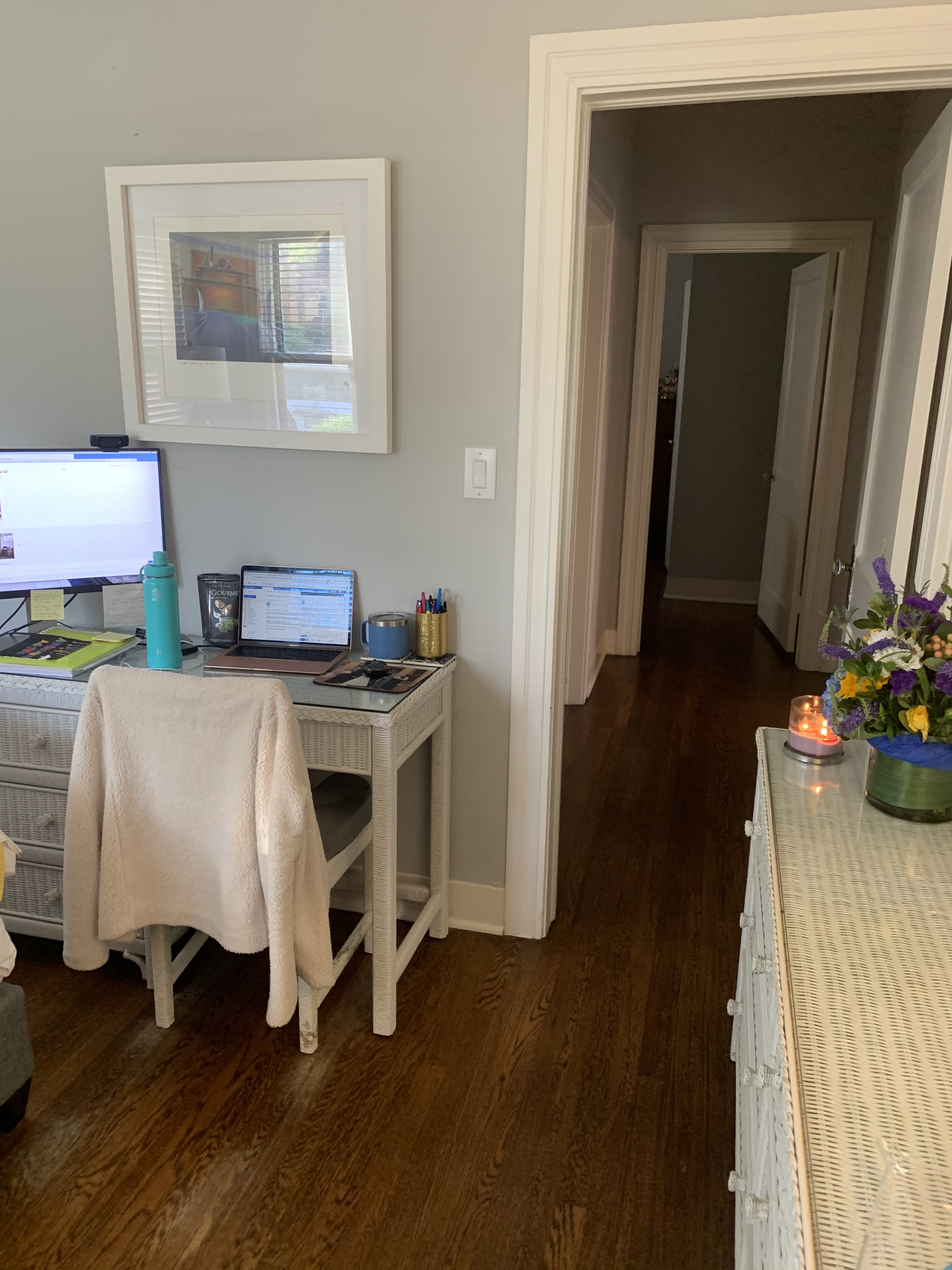 1. Working from my guest room in Dallas, TX!
2. My most treasured object changes, but I try and keep fresh flowers and rotate seasonal candles at all times. I spend a lot of time in my workspace and these put a smile on my face when I 'go' to work each morning.
3. My top three WFH tips are:
I find it's important to designate a permanent space to work from each day rather than working in various parts of the house. This helps to set a routine in going to your 'office' when it's time to work but also in driving focus because you have your desk, monitor, chair cushion (a must) and tools to make you successful and efficient each day. 

Maintaining a daily 'to-do' list and blocking off time on my calendar to do focused work is essential. It helps to stay organized on key projects/initiatives you are working on, but also to create balance when you need to sign off each evening to make time for personal, family, etc. 

Schedule your day (including blocking off time on your calendar) to allow for breaks, lunch, getting fresh air, etc. When you are home, it can be easy to power through your to-do list or schedule back to back meetings all day and not allow yourself a break.
Skylar Anderson, VP of Design
San Diego, CA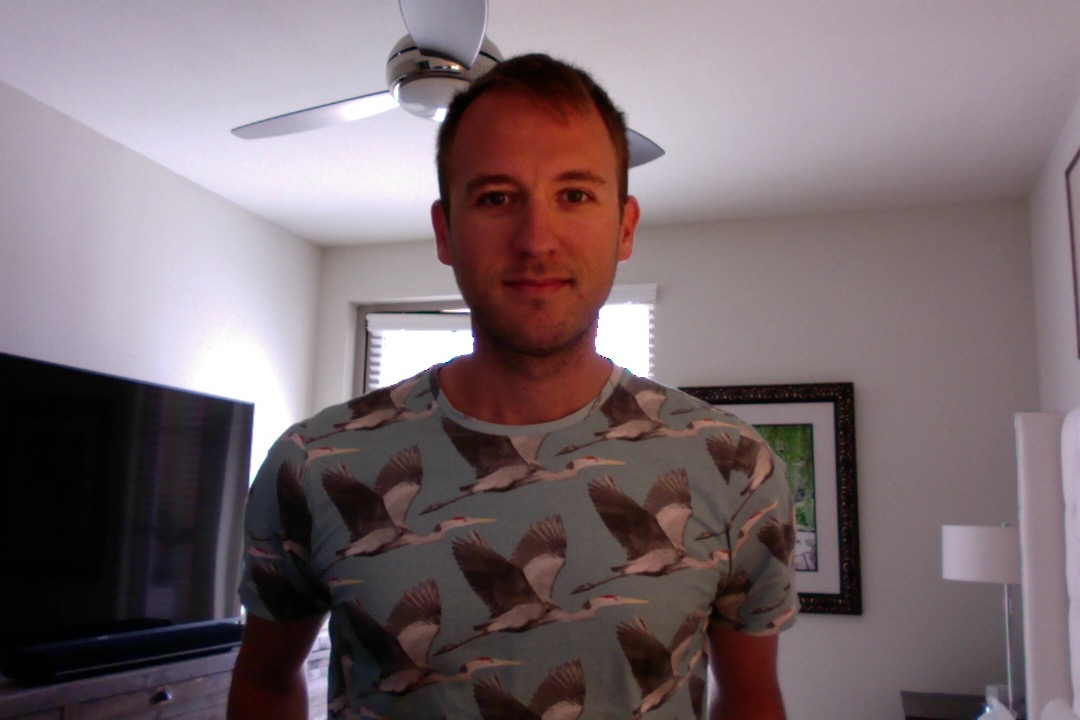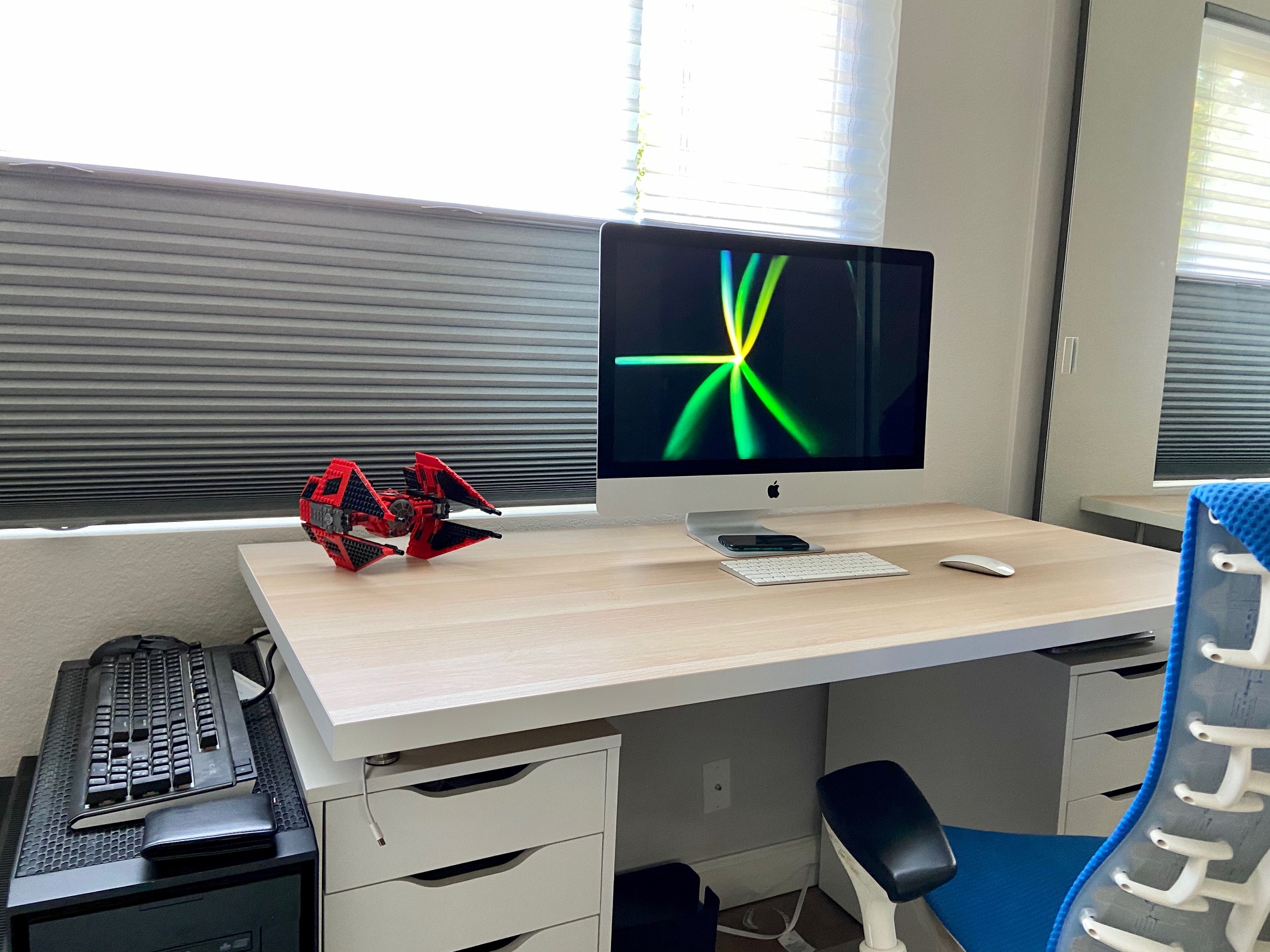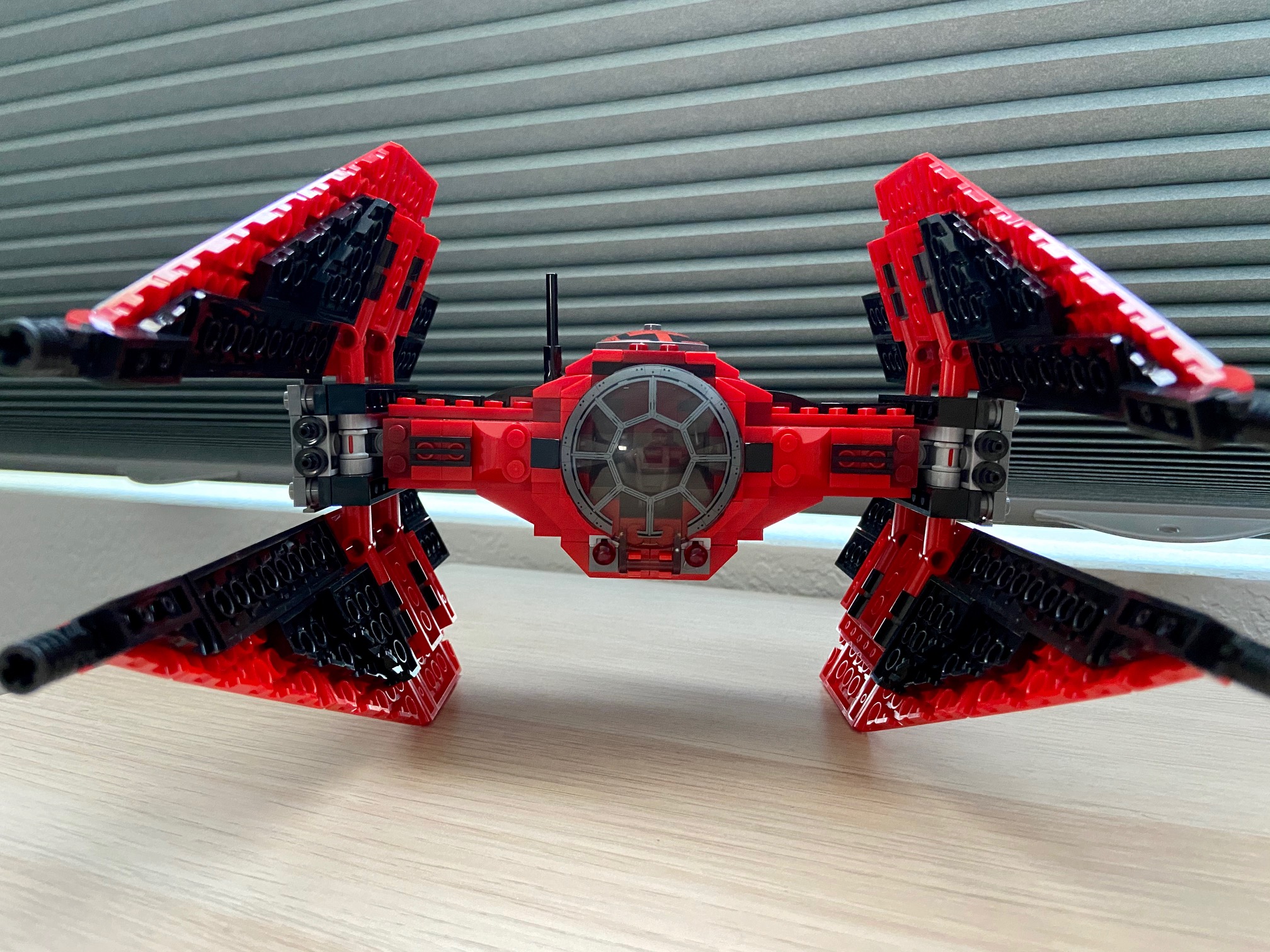 1. Work out of my bedroom in San Diego, CA.
2. I have young kids so there is a constant rotation of kids toys on my desk.  It's usually a star wars lego. I also love when my kids sneak in and interrupt meetings. 
3. Establish and stick to a routine that works for you. Maintain clear lines between work space and life space. Pants are optional. If there is junk food in the house, you're gonna eat it--don't buy it!
Sydney Shea, Senior Product Designer
Brooklyn, NY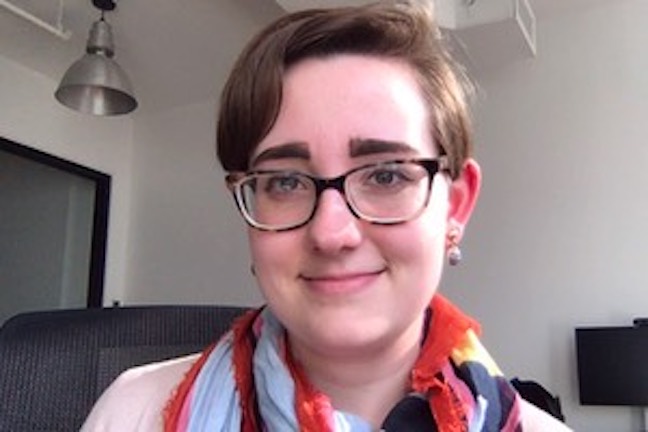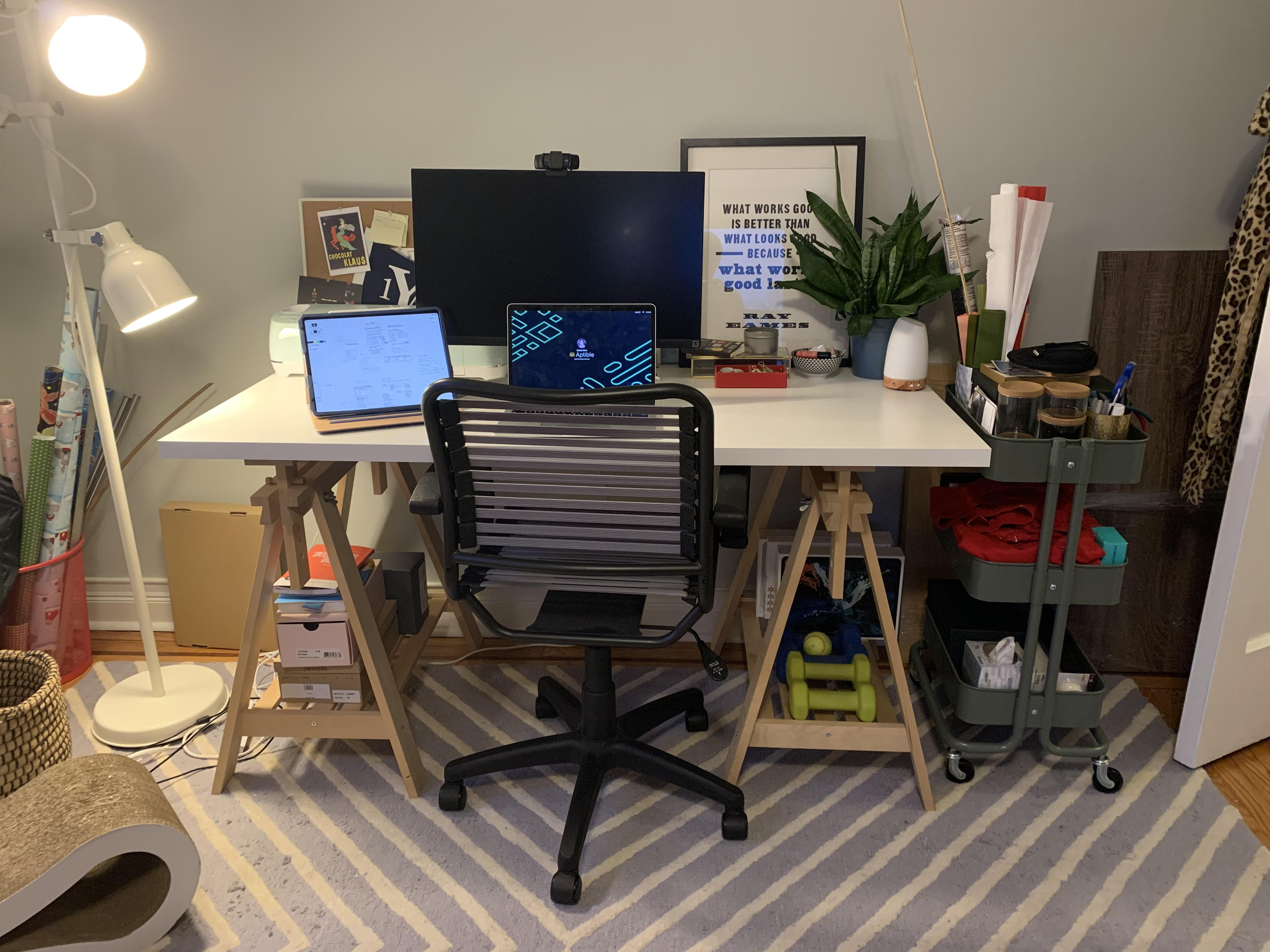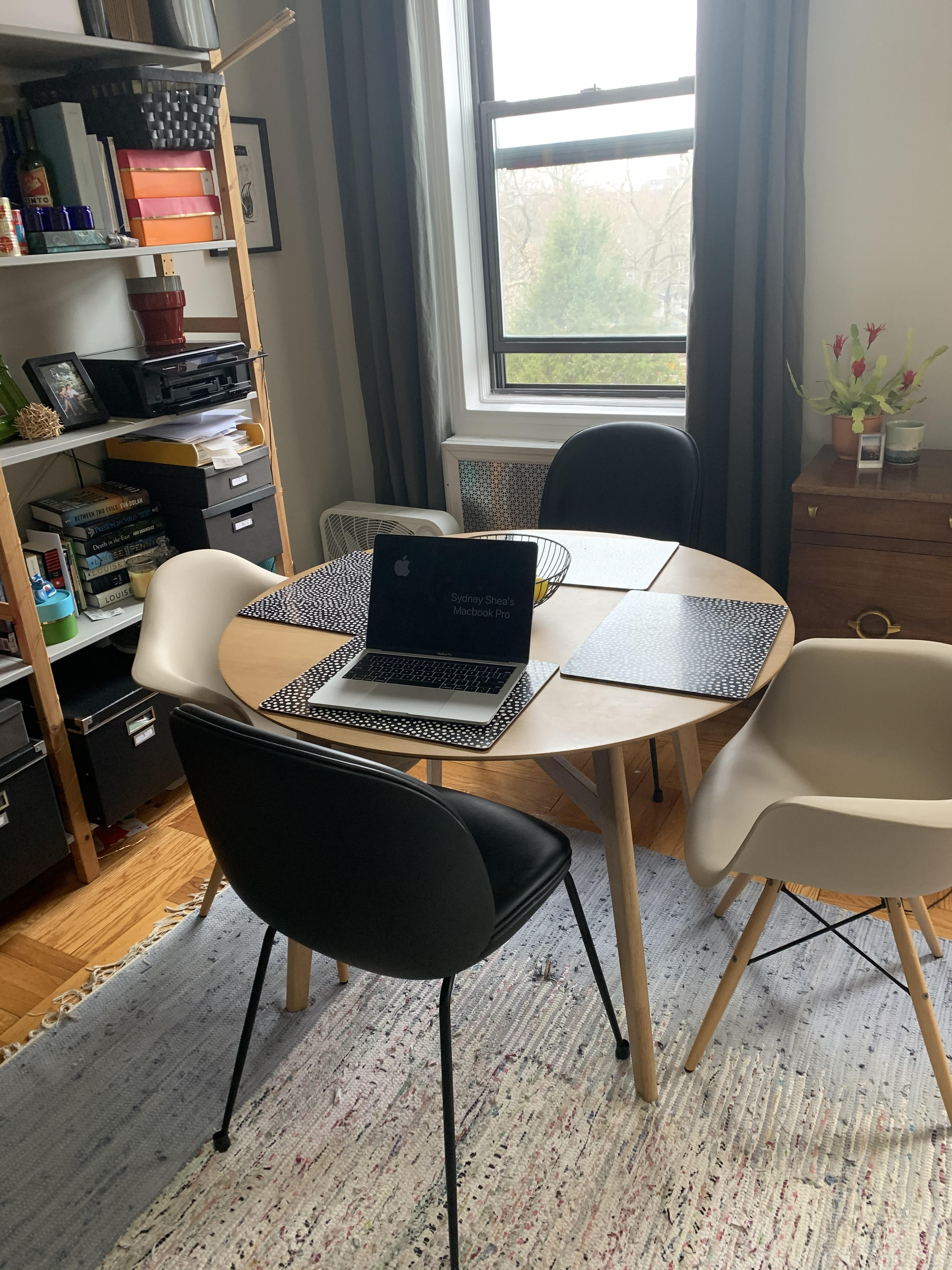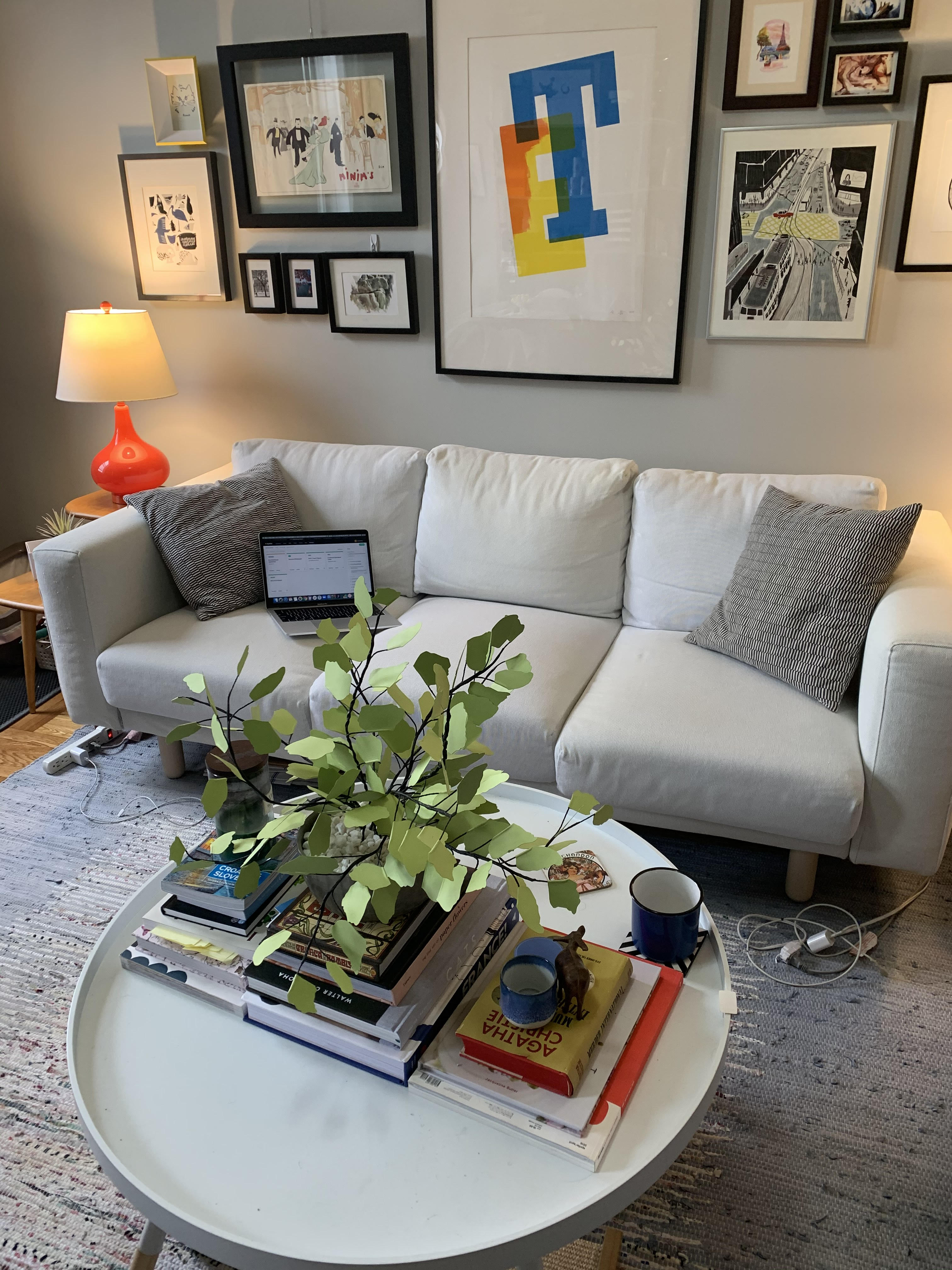 1. I work out of my apartment in Brooklyn, NY. I have many abodes, depending: (A) is my legit desk and (B) is our dining room table. My fiance, who's a journalist, and I trade off on these depending on the day. (C) is my living room sofa, where I like to sketch. I find I have to physically walk away from my computer to be able to properly focus on sketching, and I like to sketch while sitting oddly (feet elevated) so the sofa is a good place for me for that. 
2. Two general categories of things: my prints and my plants. The prints just make me happy - I love colors and patterns and I like to be surrounded by them. Plants - I'm not actually very good at plants so now we have a mix of real and fake ones. We've actually made a lot of them out of paper (like the one on the coffee table here) so I can never kill them! I do have a so far still alive calathea rattlesnake plant, though, which is my fav.
3. My tip would be to create a routine that helps to break up the day. By being purposeful about what times I'm doing what, it makes it easier to focus during work time and turn work off during home time. This doesn't mean they need to be consecutive blocks - I definitely encourage an appropriately-socially-distant midday walk to get some fresh air!
Tom Cunningham, UX Software Engineering Lead
Pittsburgh, PA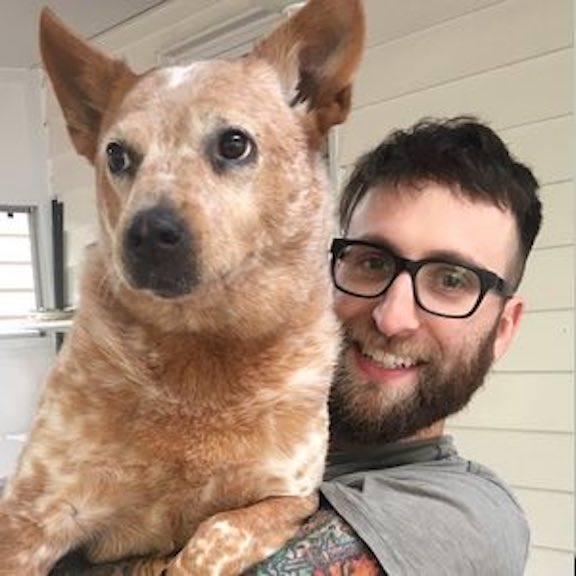 1. I work out of our third floor/attic space in Pittsburgh, PA.
2. My record collection; I have hundreds of punk, hardcore and metal records.
3. My tips are:
Have a dedicated space: It's important to have a comfortable workspace where you can focus and be free from distractions. This also helps to separate work from home.

Have a routine: I find it's important to prepare for the work day as if I was going into an office. Shower, get dressed, have breakfast / coffee, etc.

Take breaks, go outside; Sometimes it's necessary to get out of the house, even for a few minutes. Take a walk or just sit on your porch to relax.
Zachary Starr-Glasser, People Operations Associate
Austin, TX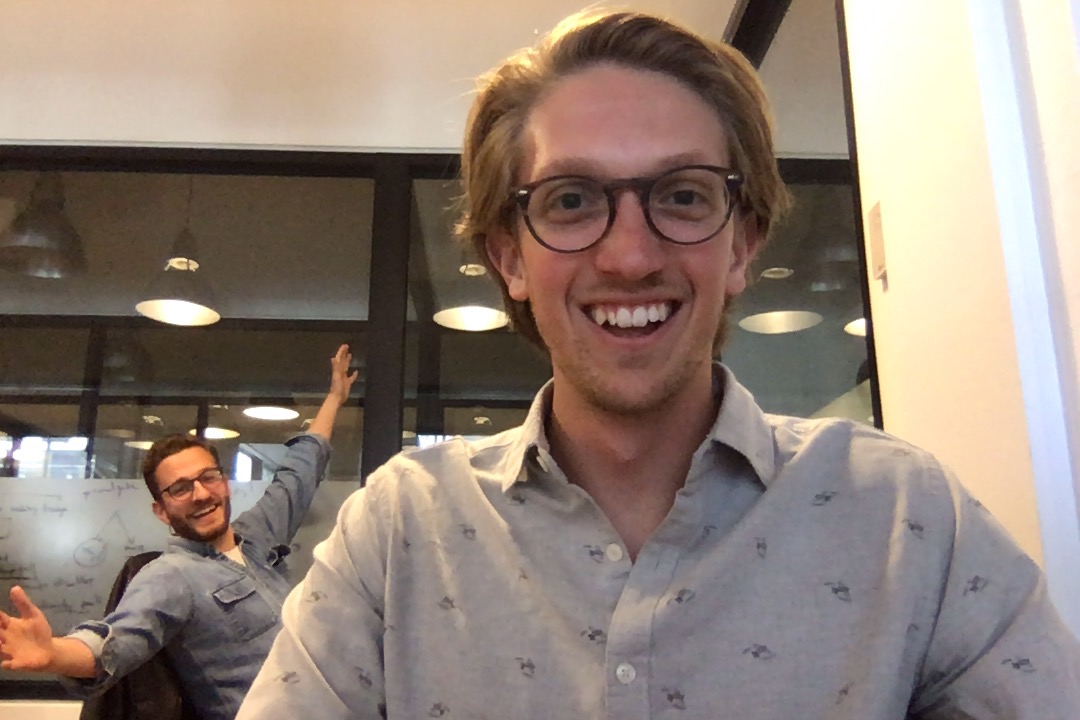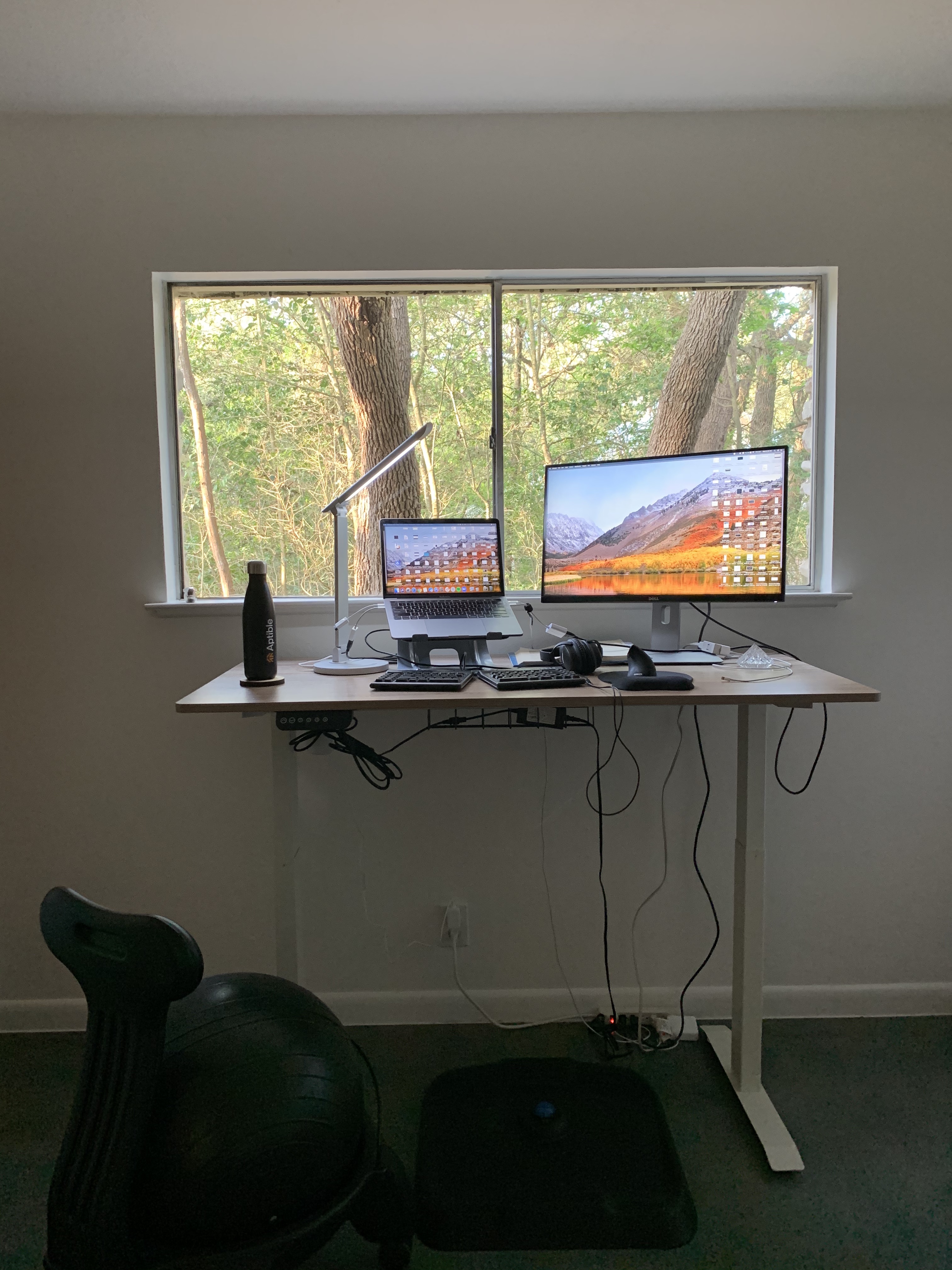 1. I work out of a room in my house in Austin, TX!
2. I'm definitely a fidgeter so, having a multi-textured standing mat and an exercise ball for a chair help me stay in motion while keeping focused. I also love being so close to nature (via the window) while I work. In addition to my daily dose of squirrel antics, I've had deer, raccoons, coyotes and hawks pay me a visit during the workday.
3. a) Strategically use headphones - while its great to be able to blast music freely at home, I've found it helpful to use my headphones as one might in an office setting -  as a tool to minimize outside distractions and to help me stay locked in during particularly focused bursts of work. b) Take advantage of the fact you're at home - I've really enjoyed things like being able to cook a fresh lunch for myself and having a quick chat with my wife between meetings. c) Get dressed - Because you're at home, you can wear your most comfortable outfit every single day but I've found the act of getting up, showering and getting dressed as I would if I were going into an office very helpful as a way to add structure in an otherwise unstructured, at-home environment.