News & Updates
Introducing Aptible's new brand identity
Goodbye Enclave and Gridiron, hello Aptible Deploy and Aptible Comply
Aptible was founded to build trust on the internet. We do this by making it easier for companies to go from having an idea to releasing it to the world safely and securely. Protecting data online can no longer be an afterthought. Saying "we take data security seriously" isn't good enough. Customers, partners, investors, shareholders, and vendors are all demanding proof that you're authentically investing in data security.
Over the past 9 months, we've been working behind the scenes with our amazing partners at Focus Lab to update our brand to help us better articulate this vision. We're pleased with the results, and we're so happy to finally have the opportunity to share them with you.
Introducing Aptible Deploy and Aptible Comply
Today, we're excited to announce our new brand identity. The biggest and most important change is that we've renamed our products to Aptible Deploy (Enclave) and Aptible Comply (Gridiron). We like the simplicity of these names because we know they'll be easy for our customers to identify with. If you need to deploy assets securely and in an audit-ready way, use Aptible Deploy. If you need to run a Security Management program that complies with SOC 2, ISO 27001, HIPAA, GDPR, NIST CSF, among others, use Aptible Comply.
The names Enclave and Gridiron have always been special to us, the Aptible team, because we like the sports, team, strategy, and security metaphors that they engendered. But over the last five years of working with hundreds of companies, we found that they often led to confusion, which contradicts our vision. Protecting data--security and compliance--can feel like a confusing, esoteric topic. Why compound this by going to market with product names that rely on metaphors to tell their story?
The Aptible Brand Identity
Our brand identity is more than product naming. We've designed the new Aptible brand to represent how we want to communicate with our customers and prospects. More broadly, the Aptible brand should guide every touchpoint we have with a prospect or customer.
We believe the visual and verbal components of our brand give us a strong foundation for engaging with our customers, and telling the story of using security management to build trust on the internet.
Our new logo was designed around the motif of an arrow. This arrow is significant for us; it emerged early in our brainstorming. We want to communicate to our customers that we guide them through the process of security, both at the outset during onboarding and an initial audit, but beyond as they look to continuously improve their security.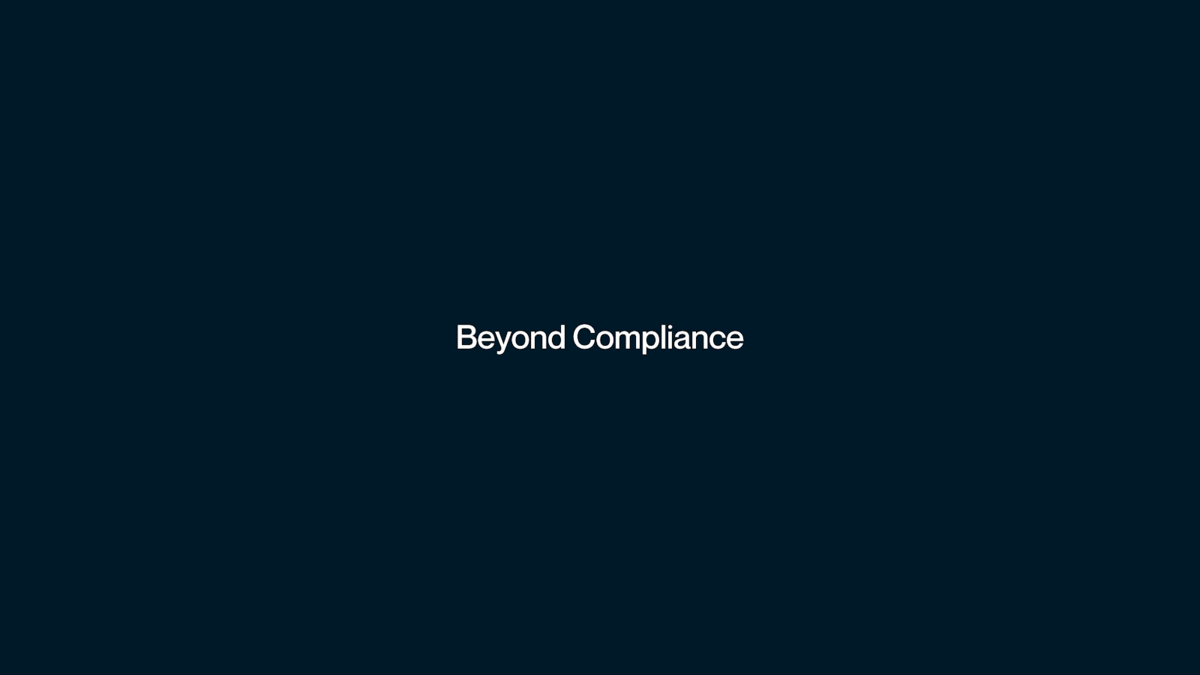 The idea of following the arrow gives rise to our new tagline, "Beyond Compliance." Of course, we help companies with compliance--these are the things you have to do--but what we really want is not just compliance, it's security. We want to help guide companies Beyond Compliance towards real security. The journey to real security is never ending, and as a result our work with our customers is never ending. But we are committed to helping each of our customers travel in the right direction.
Our language and colors are designed to evoke the emotions and ideas of accessibility and navigation. The yellow in our style guide is patterned off of road signs. The language we use in our marketing, sales, and customer conversations is designed to be welcoming. We showcase how our security and compliance knowledge can be helpful without being arrogant, boastful, or threatening. We try to eliminate jargon. This is also the reason you won't often hear us talk about the many damaging data breaches that occur across the internet each month, except where our customers need to take action, or when a breach can be educational, such as those showcased in our Security Management Monthly newsletter.
What's Next
Since Aptible was founded in the wake of the release of the HIPAA Omnibus Rule of 2013, through our experience in Y Combinator in the Summer of 2014, and in the years since as we've worked to make Aptible Comply and Aptible Deploy the best tools for companies to use to manage their security efforts and to deploy audit-ready assets online (respectively), we've been a quiet company. Our investment in telling our story has been limited. We're looking to change that.
We're committed to releasing resources that teach companies how to improve their security, regardless of where they're starting. To that end, we'll be releasing our first Security Management Guide in the coming days. We're excited to share it with you, so be sure to follow us on Twitter if you want to know when it's ready.
Our customers have helped us so much; we are so grateful for the extraordinary level of feedback that our customers give us, which has helped us to make rapid progress on our mission. As a thank you, we've sent each customer for which we had a valid shipping address a swag box with some gifts bearing our new branding. If you didn't receive a box, and would like one, don't hesitate to let us know!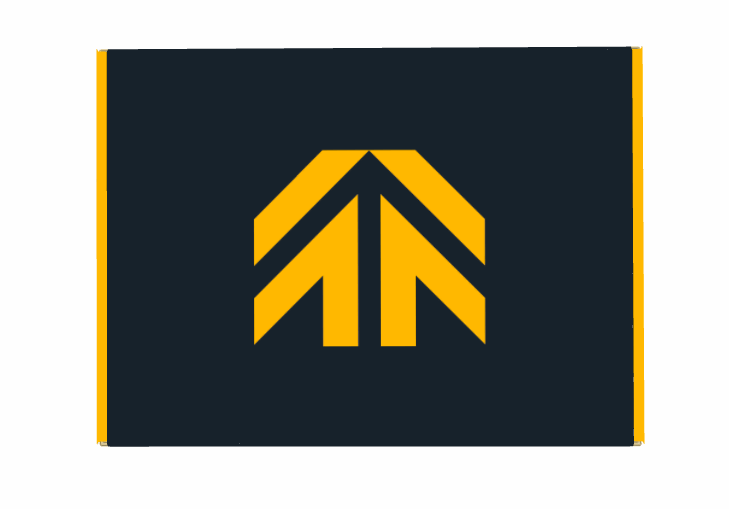 As we continue to get to know our customers better, we've realized that each has a unique and compelling story. We've started to capture our customers' stories in videos, in the hopes that we can use our customers' own experiences to communicate the value of investing in security. Later this month, we'll be continuing this conversation with a live webinar we are cohosting with our customers.
We've also taken on projects to help define and illustrate our team culture to help potential Aptible team members (some of us like to call ourselves "Aptillians") learn about the company and new Aptillians to get comfortable quickly. Our People Operations team will be sharing some of this work through our blog over the coming weeks.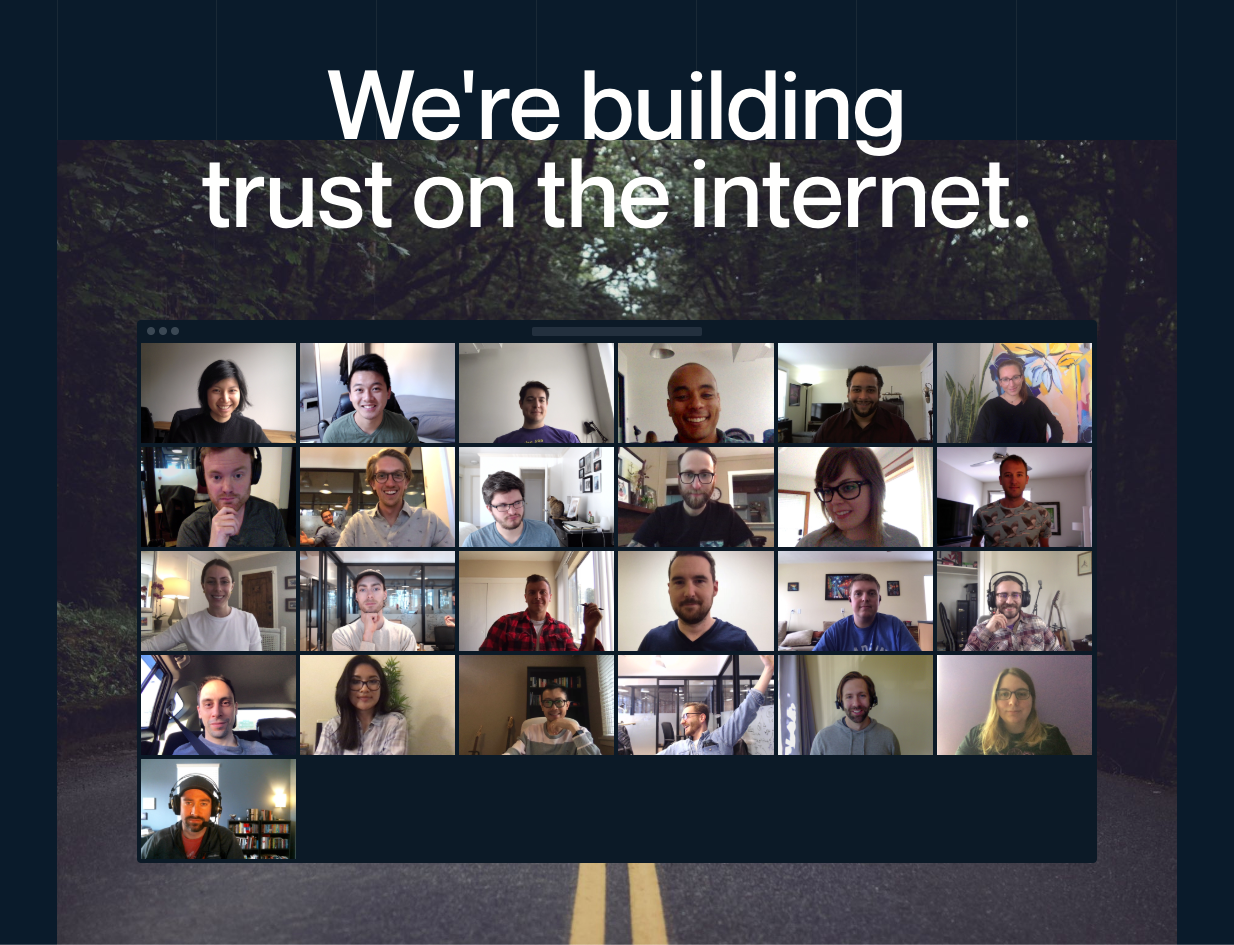 There's much more to come, including more announcements about the future of Aptible that we'll be ready to share with you in the coming weeks.
Overall, we expect to be a bit less quiet than we have been in the past. You will hear from us more often, but we will work to ensure that each time you hear from us we provide you with valuable and exciting information. That said, it would be out of character for us--against our brand identity--for us to be too noisy.
For now, we'd love your feedback. Don't hesitate to let us know how you feel about this brand change by writing to hello@aptible.com. Or, if you feel so inclined, please help us to share our new branding a bit more broadly by hitting one of the social share links on this blog post!